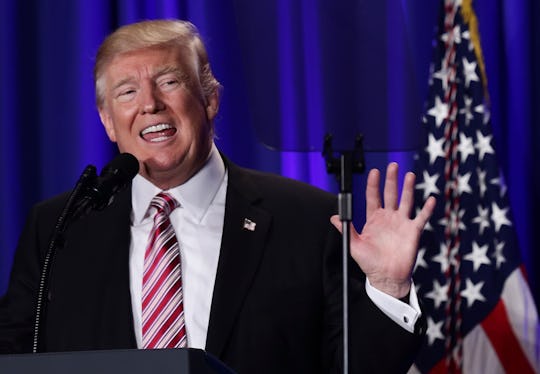 Alex Wong/Getty Images News/Getty Images
Trump's New Order Clamps Down On Refugee Admission
It has been exactly one week since President Donald Trump took his oath of office to become the 45th President of the United States. And in the past week, the man with no experience in politics has done quite a bit as President. To end his first week in office, Trump signed an executive action for the "extreme vetting" of immigrants. But what does "extreme vetting" mean? Its overall definition means that it will not be any easier for immigrants — especially of Muslim descent — to enter this country.
During the swearing-in ceremony for new Defense Secretary Jim Mattis, Trump signed two executive orders — one to rebuild and strengthen the military, according to USA Today, and another to "keep radical islamic terrorists out of the United States of America." This second action will "limit the flow" of immigrants entering the United States through extreme vetting, according to CNN. Vetting is, by definition, to examine something for its validity and authenticity. So what makes Trump's vetting of immigrants so extreme? It is called extreme vetting because it takes a much closer look at who can and can not get into the country. According to CNN, this new executive action will "make good on Trump's promise to tighten borders and halt certain refugees from entering the United States."
Trump had some choice words to say about the vetting process while signing the order, according to CNN:
We don't want them here. We want to ensure that we are not admitting into our country the very threats our soldiers are fighting overseas. We only want to admit those into our country who will support our country and love deeply our people.
How will Trump begin this vetting process? According to The Washington Post, there will reportedly be a "ban on visas to the United States from several Muslim-majority countries." According to The Guardian a draft of the executive order reportedly included a 120-day ban on refugees resettling into the U.S. and an "indefinite ban" on resettling Syrian refugees. The rest is unknown — according to CNN, the official text for the executive action has not yet been released.
According to a statement from the American Civil Liberties Union, "extreme vetting" is just a euphemism:
'Extreme vetting' is a euphemism for discrimination against Muslims. Identifying specific countries with Muslim majorities and carving out exceptions for minority religions flies in the face of the constitutional principle that bans the government from either favoring or discriminating against particular religions. Any effort to discriminate against Muslims and other religions runs afoul of the First Amendment.
This is just one of Trump's campaign promises that he is delivering on. During a campaign stop in August, Trump made a promise for the extreme vetting of immigrants. According to The Washington Post, during a speech in Ohio, Trump claimed he would "screen potential immigrants for 'hostile attitudes for our country or its principles" and ban them accordingly.
This executive order is a crack down on immigration policy and just another way of Trump acting on his campaign promises — even if it will effect so many people from entering this country.