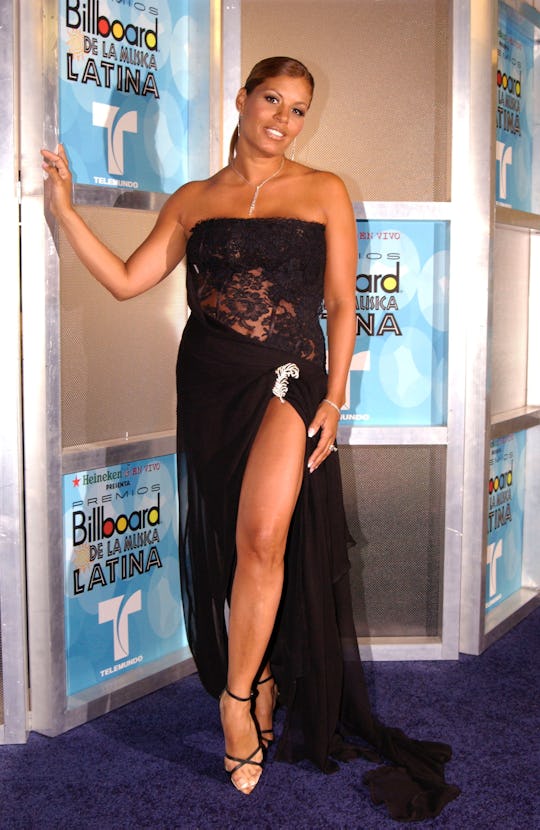 David Friedman/Getty Images Entertainment/Getty Images
What Does Gianna Isabella's Mom Do Now? Brenda K. Starr Is Still Singing
For those of us who never knew that Mariah Carey's 1998 hit "I Still Believe" was actually a cover song, being introduced to Brenda K. Starr thanks to her daughter Gianna Isabella's current stint on American Idol has been pretty intriguing. During Gianna's Idol audition, she said her mom was a pop star in the '80s who Mariah Carey sang backup for (and who, also, apparently used to dance at the same studio as a pre-fame Jennifer Lopez). That's a pretty cool story, but what does Gianna Isabella's mom do now? Starr is a huge supporter of her daughter's Idol journey, according to a recent interview with NJ.com, but, according to Starr's Facebook page, it looks as though she is also still singing and performing herself, having returned to the music industry after her initial pop music career nosedived. These days, Starr sings in Spanish. She released her first Latin music single, "Herida" in 1997 and it topped the Latin Billboard charts — and has been nominated for Latin Grammy awards, according to Billboard.
Currently, it appears that Starr's website is inactive, and prior to her recent string of Facebook posts about her daughter's American Idol gig, she hadn't posted very frequently. But, even though her own singing career may not be as huge as it once was, it's clear that Mariah Carey's one-time mentor is one very proud mama.
Starr and Isabella definitely seem very close, both as mother and daughter and as singers. Isabella has said that her mom taught her "everything she knows," and she even opted to cover Starr's breakout hit on Idol, despite her mother advising her against it. Starr told NJ.com that she thought it would seem like the song choice had been forced on her daughter, but Isabella disagreed:
But I was the one who wanted to do it. I'd go to see my mom's performances and she would pull me on-stage to sing it with her, and I would have only a line or two, but when I sang it on American Idol, it was like my own little concert.
Isabella and her mother are optimistic about her future on American Idol (she's doing very well, so far), and Starr seems very proud that her daughter is following in her musical footsteps. While there's no word on any upcoming new music from Starr other than an album she mentioned she was working on in 2015, it looks like her career has been about much more than just being an '80s star. And, given her important role in launching Mariah Carey's career — not to mention being the first person to sing "I Still Believe," which, let's be honest, is kind of amazing — it's pretty great to see her name in the press once again.