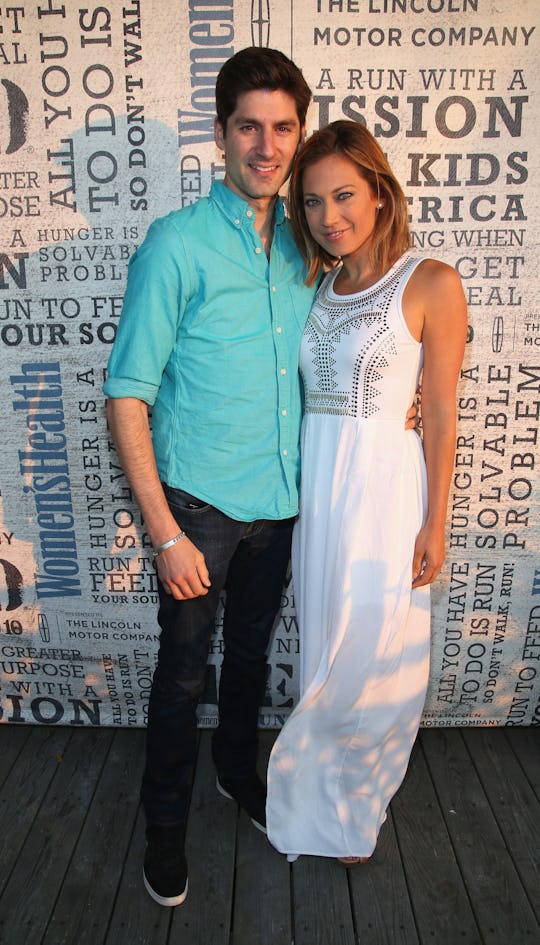 Paul Zimmerman/Getty Images Entertainment/Getty Images
What Does Ginger Zee's Husband Think Of 'Dancing With The Stars'? He's Very Supportive
It would be an understatement for me to say that Ginger Zee is a frontrunner on Dancing with the Stars. She's not only a frontrunner, but she's the one to beat. She seems to have fans rooting for her on the show, but one of her biggest fans is her husband, Ben Aaron. Aaron, a TV personality himself, is always there to support his wife, and the partner switch week was no different. But what does Ginger Zee's husband, Ben Aaron, think of Dancing with the Stars? Honestly, if it were up to him, he might want a shot on the show himself.
On Monday, Zee said goodbye to her partner Val Chmerkovskiy and said hello to her new partner for the week, Mark Ballas. Because of the new partner, Zee's husband stopped by the rehearsal space to make sure everything was up-to-code — since, according to him, Chmerkovskiy knows the score. (Ballas definitely knows the score, too, since he's engaged and this was all done in good jest.)
But, what does Aaron think of Zee's time on Dancing with the Stars. I think we have our first Season 23 contestant, if I'm being honest.
After their Salsa, Ballas and Zee received a 32 from the judges. It's a pretty high score from the judges but if it were up to Aaron, the two would have scored a 50 (which is 10 points higher than the highest possible score). From just a look at his social media, it is very obvious that Aaron is one incredibly supportive husband. He even acts as a bit of a hype man, posting the following video in anticipation for Monday's show with the caption: "TONIGHT...Ginger and Mark take on a sexy Salsa on DWTS! Don't forget to vote for them 1800 868 3404. You can vote up to 9 times! Online voting too! Here's a little dance to get you in the mood!"
See what I'm saying? Aaron's got some moves. Maybe Zee is teaching him some steps outside of practice, and maybe — just maybe — we'll see Aaron take the Dancing with the Stars stage next season.
Aaron is clearly working every angle to get the maximum number of votes for his wife. Whether it's a comedic post, an adorable post, or a ~sexy~ post, Aaron is helping Zee gain more votes left and right (if she doesn't need them — she's a consistent front-of-the-leaderboard contestant).