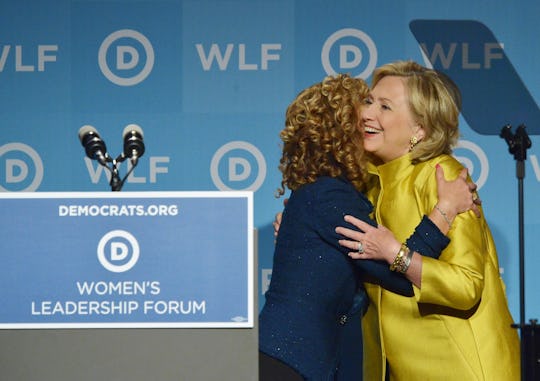 MANDEL NGAN/AFP/Getty Images
What Does Hillary Clinton Think Of Debbie Wasserman Schultz's Resignation?
On Sunday afternoon, Democratic National Committee chairwoman Debbie Wasserman Schultz announced that she would be stepping down from her role as soon as this year's Democratic National Convention ends. The announcement came two days after thousands of DNC emails were leaked, with a few emails from top DNC officials appearing to show a bias against Vermont Sen. Bernie Sanders. With much of the controversy involving Democratic frontrunner Hillary Clinton's campaign, many are wondering if Clinton has weighed in of Wasserman Schultz's resignation.
Clinton swiftly added her voice to the conversation on Sunday, but she shied away from addressing the leaked emails or Wasserman Schultz's resignation directly. Instead, Clinton chose to thank the chairwoman for her work leading up to the convention:
I am grateful to Debbie for getting the Democratic Party to this year's historic convention in Philadelphia, and I know that this week's events will be a success thanks to her hard work and leadership. There's simply no one better at taking the fight to the Republicans than Debbie.
Neither Clinton nor her campaign spokespeople weighed in on whether her campaign wanted Wasserman Schultz to resign. However, many Democrats believed it was the right move for both the Democratic Party and Clinton's bid for president.
Wasserman Schultz herself said Sunday that the best way to move forward with Clinton's campaign was to remove herself from the picture. "Going forward, the best way for me to accomplish those goals is to step down as Party Chair at the end of this convention," she said in a statement. "As Party Chair, this week I will open and close the Convention and I will address our delegates about the stakes involved in this election not only for Democrats, but for all Americans."
However, ties won't exactly be severed between Clinton and Wasserman Schultz following the chairwoman's resignation. In her statement, Clinton said Wasserman Schultz would be the honorary chair of the Clinton campaign's 50-state program and would "continue to serve as a surrogate" for the campaign on a national and state level. Clinton continued:
I look forward to campaigning with Debbie in Florida and helping her in her re-election bid–because as President, I will need fighters like Debbie in Congress who are ready on day one to get to work for the American people.
It seems that while Wasserman will be leaving her position as chairwoman behind, she'll still be working hard to get a Democrat into power — and Clinton appears to be welcoming her onto the team with open arms.