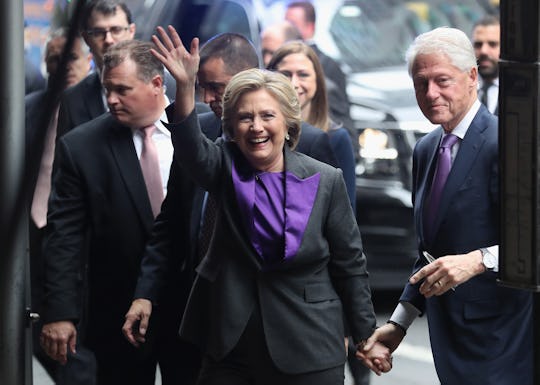 John Moore/Getty Images News/Getty Images
What Does Hillary Clinton's Purple Suit Mean? Her Concession Speech Outfit Was Symbolic
Former Secretary of State Hillary Clinton delivered her concession speech in New York Wednesday morning, and for the millions of Americans who voted for her, it was a difficult one to hear. Despite the obvious heartbreak felt by everyone in the room, Clinton tried to offer hope, strength, and an important message of unity and optimism to anyone feeling afraid of what might happen moving forward under a Trump presidency. But she didn't just use her words to do it. What does Hillary Clinton's purple suit mean? Just like wearing white became an important symbol leading up to the election, her purple suit was likely also a meaningful sartorial choice.
When Clinton accepted her party's nomination at the Democratic National Convention back in July, she did so wearing a white pantsuit that was considered to be an important nod to the suffragist movement, according to TIME. And that, of course, seemed entirely fitting: after all, not only did the movement help to give women the right to vote, it also ultimately made it possible for Clinton, the first female nominee of a major political party, to run for president, almost a century after the ratification of the 19th Amendment.
According to The New York Times, white, purple, and gold were the official colors of the National Women's Party, which fought for women's suffrage in the United States. According to an early mission statement for the Congressional Union for Woman Suffrage (from which the National Women's Party was born), the colors were specifically "selected for the significance they bear in the work the union has undertaken." White, the statement explained, represented purity, and quality of purpose, while purple "is the color of loyalty, constancy to purpose, unswerving steadfastness to a cause." According to TIME, British suffragists also adopted purple and white for their cause, and explained that, to them, purple represented "instinct of freedom and dignity."
Listening to Clinton's concession speech, it seems like she definitely chose the right color. She spoke to the crowd about feeling "pride and gratitude for [the] wonderful campaign that we built together," and though she admitted to feeling disappointed over the painful election result, she reminded her supporters that her campaign "was never about one person, or even one election. It was about the country we love and building an America that is hopeful, inclusive, and big-hearted." As she encouraged Democrats to respect and "cherish" the peaceful transfer of power integral to constitutional democracy, she also upheld her campaign's continued call to action, to keep pushing for the ideals and values that they have all been championing:
This loss hurts, but please never stop believing that fighting for what's right is worth it ... We need you to keep up these fights now and for the rest of your lives. And to all the women, and especially the young women, who put their faith in this campaign and in me: I want you to know that nothing has made me prouder than to be your champion. I know we have still not shattered that highest and hardest glass ceiling, but someday someone will — and hopefully sooner than we might think right now.
Of course, it's hard to feel optimistic in the wake of such a huge blow to what was considered by many to be an inevitable win for Clinton. But her message has offered strength and comfort to all of those desperately in need of it today, and in the days and weeks and months to come, it will likely also offer inspiration — a reminder that the fight isn't (and shouldn't be) over, even amidst such a crushing defeat.
Hopefully, Clinton's speech will also be a sign that, while many Americans might be feeling betrayed by the reality of a Trump presidency, there are still millions of others who are there in solidarity, fighting for freedom and inclusion and equality. Even though they may not have made up the majority of those who cast votes in the election, the movement hasn't disappeared, and that means anyone who was hoping to see Clinton in the White House can continue to work towards the goals that she unfortunately will not get the opportunity to champion as president.