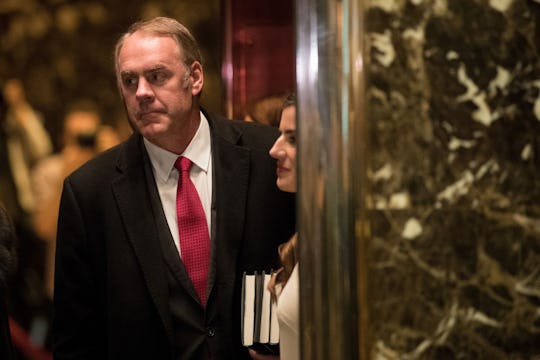 Drew Angerer/Getty Images News/Getty Images
What Does An Interior Secretary Do? Ryan Zinke Has A Big Job Ahead Of Him
Some jobs are thankless jobs — the kind that are essential to how an organization works, but are often overlooked. Take the secretary of the Interior Department, for example. What does an Interior secretary even do? I bet you could stump a lot of even the most informed people at a pub quiz with that one. These are the kind of Cabinet positions that sometimes get swept over in media headlines and in passing conversation, but since all eyes are on Donald Trump, each nomination is rightfully getting the third degree.
On Tuesday, Donald Trump officially offered Montana Rep. Ryan Zinke the position of secretary of the Interior, according to sources close to the president-elect's transition team, and Zinke has reportedly officially accepted the offer. Zinke will still have to be confirmed by the Senate but in the meantime it might be good to brush up on what the "Interior" part of his title actually means.
As it turns out, "Interior secretary" is actually one of the most important gigs in an administration. According to department's website, the secretary is responsible for using "sound science to manage and sustain America's lands, water, wildlife, and energy resources" and is charged with "honor[ing] our nation's responsibilities to tribal nations, and advocates for America's island communities."
This department is responsible for land and water conservation, consulting and rebuilding infrastructure after a natural disaster like a hurricane, and, possibly most importantly, is on the front lines of Native American issues. So something like the Standing Rock Sioux tribe's battle with the Army Corps of Engineers is on the top of the Interior Department's "to-do" list. Anything that has to with land, who owns it, and what can be done with it, would go through Zinke.
Even though the Interior Department's mission is to use "sound science" as its guiding principle when it comes to decisions about the land its officials are tasked with protecting, Zinke has often voted against environmentalists when it comes to coal extraction, landing him a 3 percent rating with the League of Conservation Voters.
Then again, as a lifelong hunter and fisherman, Zinke has recently objected to legislation that would give states the right to take land from the federal government for timber production. Zinke's voting record shows that he's about land conservation as long as big industry isn't hurt too much by federal regulation public land use.
If confirmed, Zinke would be in charge of "one-fifth of the nation's land, including national parks, wildlife refuges, tribal lands and areas ripe for drilling, mining, wind and solar development, and oil and gas pipelines," according to Politico.
As a sidenote, if Zinke is confirmed, it gives Democrats a chance at a contentious race in the midterm elections in Montana, so it's not likely that there will be a lot of discussion about giving him the job. Especially since he's a longtime Trump supporter and once called Hillary Clinton "the antichrist," Democrats would love to take his seat in Montana.
Jason Miller, Trump's communications director said in a statement that, "Congressman Zinke is a strong advocate for American energy independence. And he supports an all-encompassing energy policy that includes renewable, fossil fuels and alternative energy." Miller added that Zinke, "believes we need to find a way to cut through bureaucracy to ensure our nation's parks, forests, and other public areas are properly maintained and used effectively."
Depending on your definition of "effectively" when it comes to land and natural resources, Zinke's nomination for Interior secretary could go either way. But never forget: the Department of the Interior is a lot more important than it sounds.