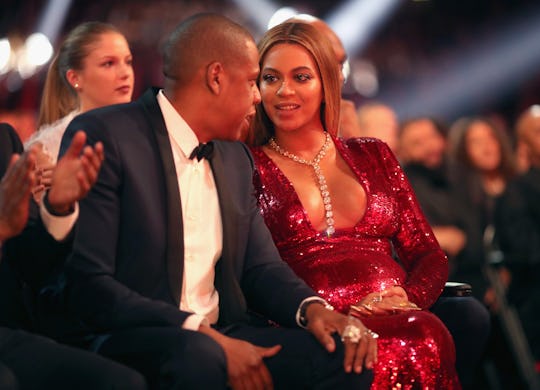 Christopher Polk/Getty Images Entertainment/Getty Images
Why Rumi & Sir Are Trademarked
It sounds like the world may finally know Beyoncé and JAY-Z's twins' names! According to TMZ, the Carters' company recently filed documents to trademark the names Rumi Carter and Sir Carter, which is a pretty good sign that Beyoncé and JAY-Z have settled on names for their twins. But for most of us, trademarks are something we associate with products, not people — so why would Beyoncé trademark Rumi and Sir Carter?
Beyoncé and JAY-Z originally tried to trademark Blue Ivy's name, as well, a bid that they lost back in 2012. At the time, people wondered whether the trademark bid was an attempt to capitalize on their newborn child — did they plan to start a business that centered around Blue Ivy? Perhaps a line of children's clothes or baby products?
According to Inc, however, there are legitimate reasons for celebrities to want to trademark their children's names. In fact, Beyoncé and JAY-Z's company — BGK Trademark Holdings — didn't even try trademarking Blue Ivy's name until a couple of other individuals and companies attempted to do so first. One individual reportedly tried to trademark the name "BLUE IVY CARTER NYC" for a children's clothing company, while a Long Island company registered "BLUE IVY CARTER GLORY IV" as a name for fragrances.
Trademarking a name doesn't necessarily mean a person or company is planning to monetize it. However, registering a trademark on the name keeps other people and corporations from trying to profit off of it.
"People wanted to make products based on our child's name," JAY-Z told Vanity Fair in 2013. "You don't want anybody trying to benefit off your baby's name. It wasn't for us to do anything; as you see, we haven't done anything."
Celebrities' names are their brands, and there's a lot of money to be made by simply being associated with a famous name (ahem, this is why celebrity fragrances are a thing — why call a perfume something French when you can link it to one of the hottest names in show business instead?).
As artists make less and less money off of album sales, merchandising has become a way for celebrities to make a living. Unfortunately, that also means that entrepreneurial individuals who are not associated with a celebrity will want to cash in on that fame, as well. So for celebrities as big as JAY-Z and Beyoncé, protecting your children's names from being exploited for profit really makes perfect sense.