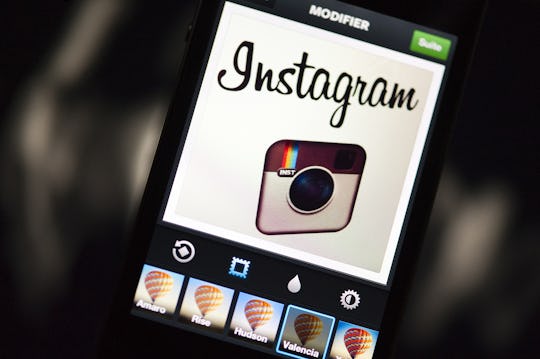 LIONEL BONAVENTURE/AFP/Getty Images
What Does It Mean To Save A Photo To Your Profile On Instagram? It's A Cool New Feature
Instagram is in the midst of a pretty decent makeover. Recently it launched live video broadcast capabilities, like Facebook's. Instagram also added comment controls and the ability to remove followers from a private account. And all of those are totally solid upgrades. But the latest change seems more like a pro-tool for creeping on your ex rather than something that lets you have more control over your images. What does it mean to save a photo to your profile on Instagram? It's potentially a little creepy, frankly.
In the past, if you wanted to capture someone else's picture, you had to McGyver it with a screenshot. But now, according to Thrillist, Instagram just unveiled a new feature that lets you save other people's photos to your profile. And even more helpful for the cyberstalkers and people who creep on their exes, no notification is sent if someone saves your vacation photos.
It seems like a strange move for the social media platform, considering competitors like Twitter are making changes to improve their users' safety, with more attention being paid to responding to abuse reports and filters to block out people who become aggressive, or engage in harassment, according to Fast Company.
Facebook, Google, and YouTube have made similar changes recently, according to Digital Trends, to make social media a safer place. Which, research shows, it definitely needs.
According to a recent survey from Princeton Survey Research Associates International, a staggering 72 percent of internet users have seen people being harassed online, and 36 percent have experienced harassment themselves, according to eMarketer.
"Twitter has been criticized for its response to harassment and hate speech, and although Instagram hasn't seen the same level of criticism, these have been issues for the image-sharing app as well.," according to eMarketer analyst Debra Aho Williamson.
And while being able to remove followers and even "turn off" commenting on Instagram is unquestionably a good step toward making it easier to mute the most hateful conversations, allowing people to grab and save your photos seems like a move in a strange direction. But there's more to Instagram's new overhaul than just privacy protection.
The reason Instagram added the feature, as Recode points out, has more to do with competitors like Pinterest, which is founded on saving groups of pretty pictures for inspiration. See a cute outfit on a fashion Instagram account? Save it for later. Scroll though some of the best food photos in your stream and save them for when you're ready to make dinner plans. AdWeek compared the new Instagram feature to Snapchat's "Memories." And when you consider the tool being used that way, it does sound really useful.
But the next time you consider posting that drunk selfie on Instagram, remember, it could be saved by your best friend for an embarrassing birthday photo collage. Consider yourself advised.