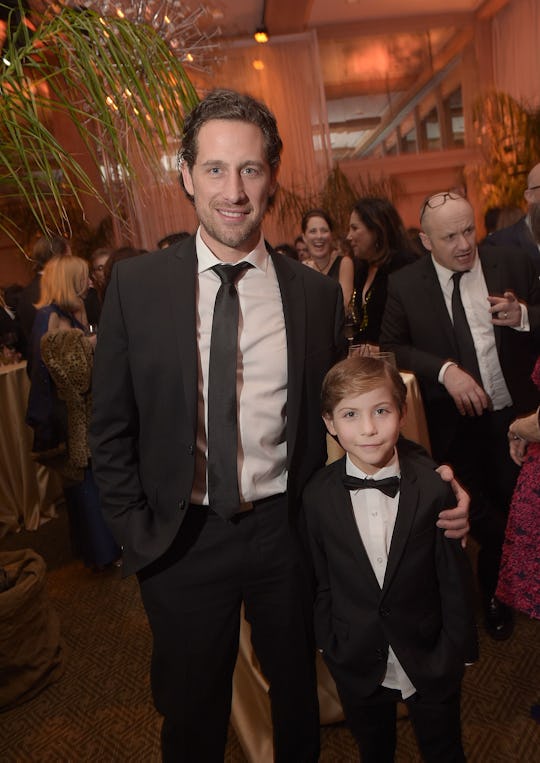 Jason Kempin/Getty Images Entertainment/Getty Images
What Does Jacob Tremblay's Dad Do? He Has An Important Job
Nine-year-old Jacob Tremblay won the hearts of everyone out there who went and saw Oscar nominated film Room in 2015. As the adorable and brave Jack in Room, Tremblay has been racking up award nominations and proving that he is going to be a very successful actor in the years to come. With such a successful son, what does Jacob Tremblay's dad do? He has a very important job that doesn't involve bringing his son to awards shows.
While the younger Tremblay may have captured the hearts of movie goers everywhere, the older Tremblay (his dad) has been capturing the eye of older women everywhere or, at least, those who pay attention to the red carpet. After escorting Tremblay to the Golden Globes, Jacob's father got plenty of attention from Twitter and various media outlets about his good looks, leaving many to ask "What celebrity is that?"
As it turns out, Tremblay's dad, whose name can not be found on the Internet, leads a pretty normal life when he isn't walking the red carpet. He is actually a police detective with the Vancouver Police Department in Vancouver, British Columbia in Canada. Tremblay posted this photo of his father a few months ago on his Instagram account.
In the caption, Tremblay called his father his hero, describing him in four words as "brave, funny, strong and caring." Aw. So sweet.
In addition to being a police detective, Tremblay's father also monitors his social media accounts which is also a very important job and makes the occasional red carpet appearance with his son.
Tremblay's father took the media by storm in January when he made his first red carpet appearance with Tremblay at the Golden Globes and got everyone talking about how handsome he was.
Despite Tremblay's age, he is already an accomplished actor, starring in The Smurfs 2 and other films before making it big with Room. According to his IMDb page, Tremblay currently has two films in post production, meaning that this is not the last time we see Tremblay (or his hot dad) walk across a red carpet for the time being.
Unfortunately, Tremblay was not nominated for an Academy Award this year, leading many to believe that he was snubbed of an Oscar nomination. However, Room is up for four Academy Awards, including Best Picture, so there is still some hope we will see Tremblay walk across the stage on Sunday night.