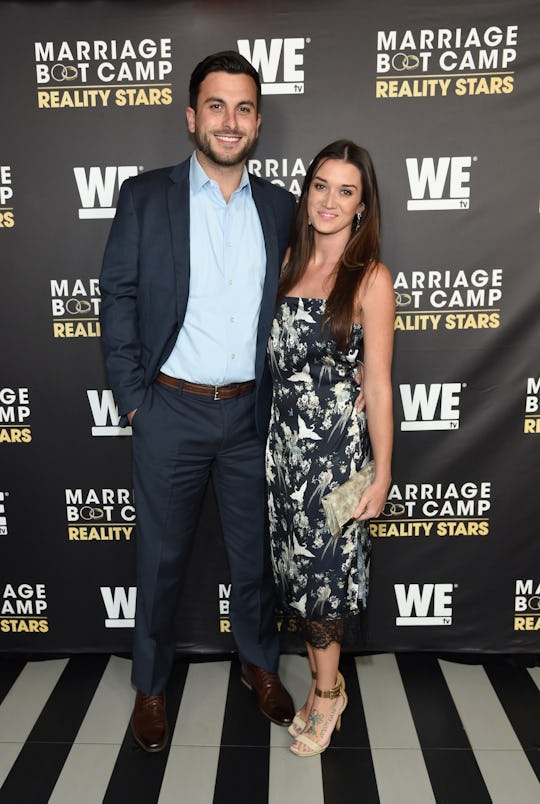 Jamie McCarthy/Getty Images Entertainment/Getty Images
What Does Jade Roper Do For A Living?
Jade Roper may not have found love on The Bachelor, but it turns out, her love story was only just beginning: the 30-year-old Nebraska-native later appeared on Bachelor in Paradise, where she met and fell in love with her now-husband, Tanner Tolbert. The fan-favorite couple actually got married on TV in 2016 (with Bachelor host Chris Harrison officiating, naturally), and last month, they welcomed their first child together, a daughter named Emerson Avery Tolbert, according to Us Weekly. These days, the trio is settling into family life, but what does Jade Roper do for a living? Roper has had a number of different jobs over the years, but these days, she is primarily a social media star — and it sounds like it's paying off in a big way.
Fans first got to know Roper when she competed on Chris Soules' season of The Bachelor in 2015, and when Soules was visiting her in Nebraska for their "hometown date," Roper revealed a detail from her past: she'd once posed in Playboy, according to People. But while her modeling background has received a lot of attention (it was more or less what convinced him to send her packing), it's far from being the defining aspect of her career history. (Though, even if it was the defining aspect, that wouldn't matter, because she's a grown woman who can do whatever she wants.)
According to The Scottsbluff Star-Herald, after graduating from community college in 2008, Roper went on to study at Le Cordon Bleu College of Culinary Arts in Las Vegas, and graduated with a 4.0. Roper then returned to work as a pastry chef in Nebraska, before she eventually moved out to Los Angeles. In a 2015 interview with Fortune, Roper shared that she'd also taken a turn working as a hospital phlebotomist doing blood draws for patients. While it may have been a less glamorous job than her modeling gigs, Roper said it was that experience that led her to her next career: cosmetics development.
In January 2015 — right around the time that Soules' season of The Bachelor aired — Roper launched her own natural cosmetics company, called Naturally Jade, and she told Fortune in March of that year that the idea had come to her as a result of having worked with women undergoing cancer treatment. Realizing they didn't have many options available to them for "chemical-free, all-natural makeup," she decided to start her own line, and after researching the process for a year, and investing $10,000 of her own money into the project, she was able to get her company off the ground. And it sounds like she was doing well: only a few months in, Roper told Fortune she had made about $12,000 in sales.
But as hard as Roper worked to get Naturally Jade off the ground, it doesn't seem like she's kept it up: the company's website is no longer active, and Naturally Jade's Twitter page hasn't been updated since June 2015. At the same time though, she couldn't have possibly anticipated then the whirlwind she'd soon be on thanks to her stint on reality TV. In addition to The Bachelor and Bachelor in Paradise (and her subsequent engagement and wedding to Tolbert), Roper also appeared on Marriage Bootcamp: Reality Stars with her new husband in 2016. And thanks to their popularity, being famous has pretty much become the couple's career these days.
It's been a major step up for Roper financially, too. In February 2016, Us Weekly reported that Roper and Tolbert were set to earn $1 million that year thanks primarily to social media endorsements and sponsored posts, and now that they are parents, that seems to still be the case. In a recent Instagram post, for example, Roper shared a snap of herself holding her infant daughter in order to promote Premama Lactation Drink Mix, a supplement designed for nursing mothers. And it looks like little Emerson is already poised to get into the family business if she chooses: Roper and Tolbert have started an Instagram account for their daughter — and even though she isn't yet a month old, she already has more than 84,000 followers.
Being an Instagram celeb definitely doesn't seem like a bad gig for the new mom: after all, not only is she making plenty of money, but it also gives her a way to stay at home and spend as much time as she'd like with her daughter and husband. And while social media stardom may not have been what she'd envisioned when she went to culinary school, or when she started her makeup line, it definitely seems like things have worked out pretty well for her.