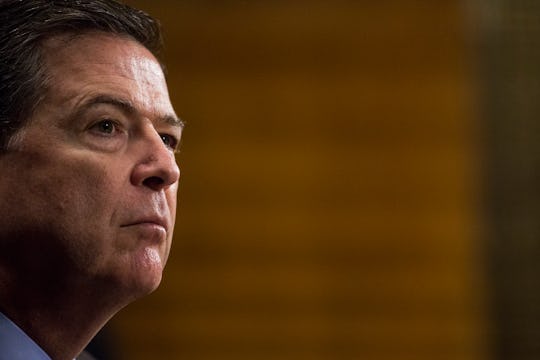 Zach Gibson/Getty Images News/Getty Images
What James Comey's Dismissal Means For The Russia Investigation
In a letter to now-former FBI Director James Comey on Tuesday, President Donald Trump claimed that Comey had lost the White House's confidence and that Comey himself was no longer "able to effectively lead the Bureau." It was a stunning move that sent shockwaves through much of Washington, which is currently embroiled in a number of other high-profile controversies and muddy legislative battles. One of the controversial issues at hand: the FBI's investigation into possible ties between the Russians and former Trump campaign officials. So what does Comey's firing mean for the future of that Russia investigation?
"The president has accepted the recommendation of the attorney general and the deputy attorney general regarding the dismissal of the director of the Federal Bureau of Investigation," Press Secretary Sean Spicer told reporters on Tuesday, according to Politico. Romper has reached out to the White House, DOJ, and FBI for comment on the matter and is awaiting a response.
The White House said in a statement,
Today, President Donald J. Trump informed FBI Director James Comey that he has been terminated and removed from office. President Trump acted based on the clear recommendations of both Deputy Attorney General Rod Rosenstein and Attorney General Jeff Sessions.
In a statement through the press office, Trump added, "The FBI is one of our Nation's most cherished and respected institutions and today will mark anew beginning for our crown jewel of law enforcement."
Immediately, pundits on both side of the aisle began speculating at the real reasoning behind the sudden dismissal. Some suggested, somewhat ominously, that any alleged ties between Trump himself and the Russian government (specifically compromising information contained in a previously leaked dossier compiled by an M.I.6 spy, Christopher Steele) had something to do with Comey's firing, though claims of that nature seemed to be a stretch.
Others claimed that the move was long overdue, given Comey's own missteps in previous months — including a letter he sent to Congress just before the 2016 election, in which he confirmed that the FBI was pursuing an investigation into additional emails found in the possession of former Secretary of State Hillary Clinton's longtime aide Huma Abedin. (On Tuesday, the FBI issued a clarification that Comey's more recent claim that Abedin had forwarded "hundreds and thousands" of emails to her husband, Anthony Weiner, was overstated. The number was later reduced to two email chains.)
Whatever the case, the sudden dismissal left an obvious gap in what was an ongoing investigation into those Russian ties. Though that investigation will still undoubtedly be pursued (Trump would be foolish to think any attempt to bury that investigation wouldn't immediately face aggressive pushback on the Hill and across the country), the real question at hand is whether the process will be affected in any visible way or slowed in any capacity. For now, that much is largely unclear.
It's impossible to ignore the calls from both the White House and the Republican side of the aisle, which have all previously blasted the investigation itself as a waste of taxpayer dollars or a partisan attempt to sully the president's credibility. Just this Monday, Trump himself wrote, in an angry barrage of tweets, that "the Russia-Trump collusion story is a total hoax."
"When will this taxpayer funded charade end?" Trump tweeted. "... [Former Director of National Intelligence James] Clapper reiterated what everybody, including the fake media already knows- there is 'no evidence' of collusion w/ Russia and Trump."
Those harsh comments were in stark contrast with Trump's letter to Comey on Tuesday, in which he thanked Comey for informing him, "on three separate occasions," that he was "not under investigation." Trump closed the letter by insisting that it was "essential" the FBI "restores public trust and confidence in its vital law enforcement mission."
That Trump has previously praised Comey's rash decisions is also suspect, in some circles, especially given his 2016 adulation of the former director over his pursuit of Clinton's emails and his decision to announce new developments days before the former secretary of state lost the election. On Tuesday evening, Senate Minority Leader Chuck Schumer postulated that perhaps Trump's sudden souring was the direct result of the FBI "hitting too close to home" in its Russia investigation, rather than a build-up of blunders.
"Were these investigations hitting too close to home for the president?" Schumer wondered aloud in a press conference.
The ultimate fate of the Russia investigation itself (whether it's hampered by this development or not) is still yet to be determined, though it's likely the FBI will continue along with its work, albeit in an elevated capacity, as far as an increase in visibility is concerned. With the lead investigator, Comey, officially off the case, at the behest of the president himself, hearings and panels on the topic will undoubtedly be forced uncomfortably into the limelight even further and brought up in discussions of historic presidential overreach. As Democratic Sen. Patrick Leahy put it on Tuesday, "This is nothing less than Nixonian ... In the midst of one of the most critical national security investigations in the history of our country — one that implicates senior officials in the Trump campaign and administration."
If Trump was hoping to stamp out any flames surrounding allegations of Russian collusion, dismissing the controversial figure at the helm of the investigation will likely prove in the coming days to have been an unwise decision.