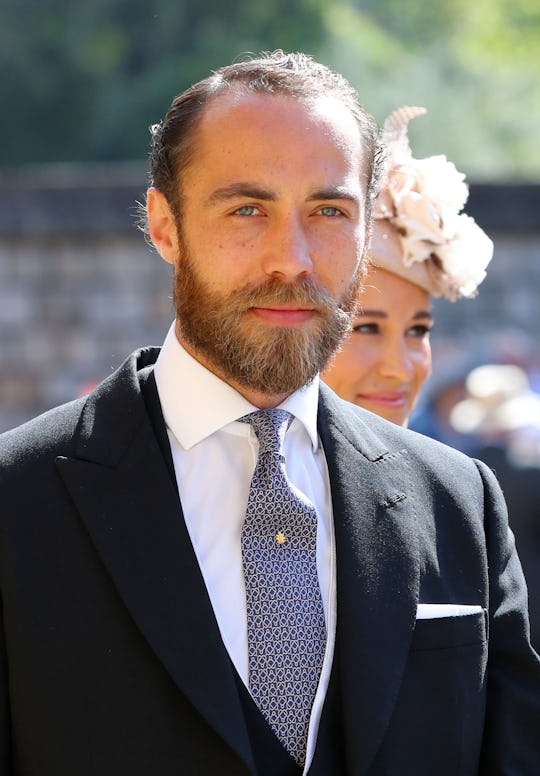 WPA Pool/Getty Images Entertainment/Getty Images
What Does James Middleton Do? He's A Fan Of Sweets
The Middleton sisters have had a busy few months. Last week, Pippa Middleton confirmed that she was expecting her first child with husband, James Matthews. And two months ago, Kate Middleton, the Duchess of Cambridge, gave birth to her third child, Prince Louie. But what about their younger brother, James? The third Middleton child piqued the interest of fans of the British royal family during Prince Harry and Meghan Markle's wedding last month. Some are even asking: What does James Middleton do for work? He is going down a career path similar to his parents, and it seems to be working out great.
Michael and Carole Middleton run a successful party planning business, named Party Pieces, where James was employed for years, according to Town & Country. Eventually, James, whose middle is William, left the organization to start his own venture, the Cake Kit Company, in 2007, selling cake kits to home bakers so they can create their own hassle-free themed confections, Town & Country reported. But the Cake Kit Company had dissolved three years ago.
Sometime before that business shuttered, though, James launched Boomf, a personalized greeting card and marshmallow company, according to ABC News. Similar to customizing sites like Shutterfly, Boomf will take your favorite photo and imprint it on confetti bomb cards or on marshmallows (yes, marshmallows), ABC News reported.
James Middleton told ABC News in 2014, a year after he founded Boomf with business partner Andy Bell:
We thought, 'Let's bring a modern era confection in the modern era.' After a few months of brainstorming, sampling, and trying different things, we came up with photo marshmallows.
The 31-year-old Middleton sibling said that his company uses a "complicated technological process" to create the personalize sweet treats, according to ABC News. He told the outlet:
We've had to develop the technology to enable us to do it on the scale that we're doing. But it kind of clicked into creating something that people seem to respond to really well.
Although Boomf has been generally successful over the last four years, the company is not without controversy. A Boomf marketing campaign in 2015 caused a stir when the confectionery firm implied that using its personalized marshmallows to come out to your family can "make that nerve-wracking announcement a whole lot sweeter," according to Refinery29. "Say 'Hey I'm gay' with Boomf!," the title of the promotional video, is still available to view on Boomf's official YouTube account, Refinery29 reported.
Boomf had also experienced some bumps in recent years. James Middleton's personalized marshmallow business claimed a nearly $3 million loss in 2016, compared with $1.6 million in the previous year, according to The Daily Mail. Last year's business filings also showed that Boomf's cash reserves went from $1.5 million to nearly $585,000, The Daily Mail reported. (Romper reached out to Boomf for comment, but had not heard back in time for publication.)
Although it may be struggling, Boomf is being kept afloat. The company, where James Middleton serves as "Wonka-in-Chief," received a $133,000 boost from his brother-in-law, James Matthews, recently, according to The Daily Mail. Boomf lives to stamp marshmallows another day.
When he's not working with sweets, though, James Middleton is being a doting uncle to sister Kate's three little ones, Prince George, Princess Charlotte, and Prince Louie, according to Marie Claire. In 2014, James told Good Morning America months after Princess Charlotte, Marie Claire reported:
Like any uncle wants to be, I want to be the cool uncle. The fun uncle. That's what sort of [uncle] I'll always try and be.
So not only is James Middleton a savvy businessperson who loves sweets, he's also a sweet uncle full of love. I'd say he's the ultimate catch.