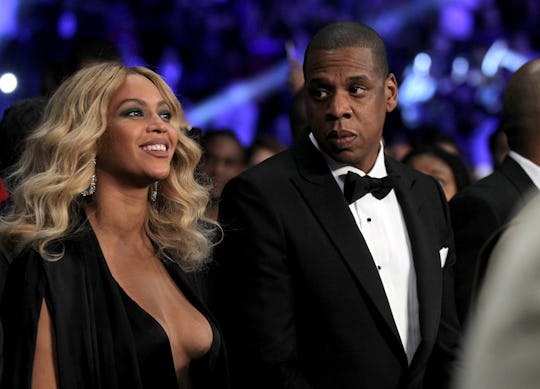 Isaac Brekken/Getty Images Entertainment/Getty Images
What Does Jay Z Think Of 'Lemonade'? The Album's Themes Seem To Feature Him Heavily
On Saturday night, Beyoncé released her long-awaited, stunningly gothic, mixed-media poem meets manifesto meets ultimatum meets confession meets celebration, Lemonade. The visual accompaniment to her new album is a dizzyingly surreal journey through layers of meaning — it grafts the stages of betrayal and forgiveness over images that recall an entire history of black pain and love, from Nefertiti, to the Black Lives Matter movement, to Beyoncé's own home movies. The lyrics openly address marital strife and cheating, which, naturally, has piqued fans' interest in the state of Jay Z and Beyoncé's relationship. So what does Jay Z think of Lemonade? Despite the bad name it gives him, like most fans, he probably thinks it's amazing. How can he not?
Though there is so much more in the cinematic accompaniment to unpack, there are moments of Lemonade that feel very pointed and very personal. In "Anger," Beyoncé yells, "If you try this shit again, you're gon' lose your wife." Later, in "Apathy," she's moved on a bit, and casts off the wonderfully line: "Ashes to ashes, dust to side chicks." She even outs a side chick by name (or pseudonym?) when she sings, "He better call Becky with the good hair."
Not long after Lemonade was released on HBO, fashion designer Rachel Roy posted a photo of herself and some friends squeezed into the back of a car on Instagram. She captioned it: "Good hair don't care, but we will take good lighting, for selfies, or self truths, always. live in the light #nodramaqueens." That hashtag could not save her. A slew of fans rained down accusations and worse, which resulted in her freezing all of her social media accounts and canceling a public appearance. The BeyHive is fierce, and if anyone even hints at being the cause of Beyoncé's pain, they're toast. That has been confirmed. (Though what's strange is that the BeyHive hasn't yet targeted or threatened Jay Z, who also cheated. Of course, only Roy has been targeted, because double standards are still alive and well.)
But, let's go back in time a bit to put the pieces together. Roy has had a long relationship with Jay Z. She's the ex-wife of one of his ex-best friends and business partners, Damon Dash. Dash and Jay Z have had a turbulent relationship, marked by betrayals and rivalries, in business and in love. Roy and Dash were married in 2005 but it ended in a very messy divorce about eight years later. Their split was less than a year before the now-famous incident that caught the tension between Roy and Beyoncé on camera.
In May 2014, after a Met Gala party, a security camera captured Solange Knowles battering Jay Z in front of Beyoncé (battering is really too nice a word). That night, the sisters had allegedly confronted Jay Z about his friendship with his friend's ex, Roy. An insider told told Hollywood Life, "Solange was defending Beyoncé in the elevator because Solange finds Jay's friendship with Rachel to be WAY too close for comfort and it makes Solange very uncomfortable. Beyoncé also confronted Rachel and said, 'Don't talk to my sister like that,' after [Rachel] confronted Solange." Roy's poorly-timed comment (there's no evidence she actually is Becky) fanned the fire, though that does not mean she should be threatened or judged. Again, two people make infidelity happen.
As for the present, Jay Z and Beyoncé's relationship has seemed to weather that particular storm. While a lot of attention has been paid to the emotions of jealousy and anger on the album, many sleuths are overlooking the ending, which is a bittersweet and all-too-real ode to moving on, rising above a fray, and forgiveness. Turns out that, under all the bad, there's still some good; lemonade out of lemons, and all that. Scandal is always titillating, but when it comes to Lemonade, searching for biographical clues and chinks in a celebrity marriage really seems to miss so much of the point. There is autobiography here — that's clear. But it's art. Art is never a one-to-one equation. As for Jay Z, who knows his opinions of Lemonade. He's always been supportive of collaboration and pushing the envelope. He must think it's pretty good — he released it on his streaming service, after all.