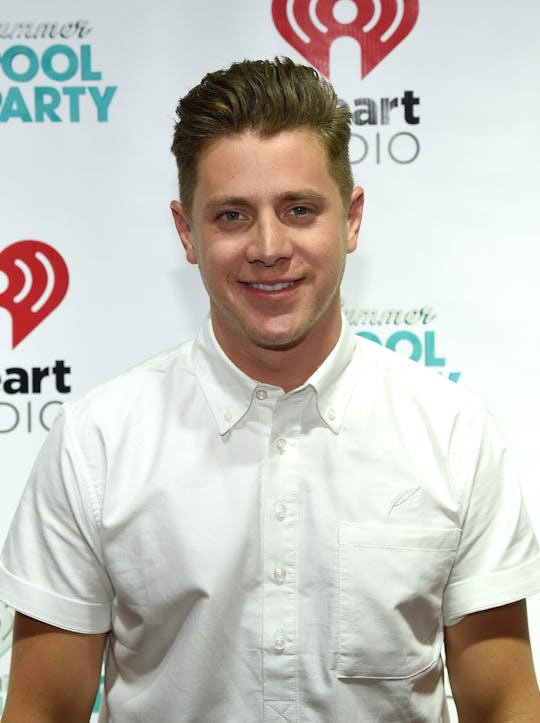 Ethan Miller/Getty
Jef Holm Has Made His Feelings About Arie Being 'The Bachelor' Very Clear
When it was announced that Arie Luyendyk Jr. would be the next lead of The Bachelor, not everybody was completely thrilled about it, including one of Arie's old costars. So what does Jef Holm think of Arie? It turns out that these two ex-boyfriends of Emily Maynard are no longer as close as they once were. In fact, from the looks of things, they aren't friends at all anymore.
As soon as the announcement was made that Arie would be handing out roses, Jef hopped on Twitter and made a few less than supportive comments about his old friend. Arie and Jef were both on Emily's season of The Bachelorette. Jef was the winner in the end, with a heartbroken Arie finishing as the runner-up. Though they were both in love with the same woman, immediately after the show, it looked like Jef and Arie were the best of friends. They were photographed hanging out together and it seemed like they really got along. This is not the case any longer, however. The drama happening on the internet is almost more compelling to me right now than the drama happening inside the Bachelor mansion. It all started when Mike Fleiss tweeted that this was the most positive reaction they'd ever had about a Bachelor announcement. Jef, apparently, did not exactly agree with this assessment.
The Bachelorette alum responded immediately to the tweet saying he'd "rather see a double Bachelor." This isn't too shady, but Jef was far from done. In further tweets, he made it very clear that he is not an Arie fan, and he doesn't have high hopes for the future of Arie's relationship after the show.
In response to Reddit rumors Reality Steve tweeted about — which claimed that Arie and Jef used to hang out at sorority houses together — Jef took the opportunity to showcase his dislike of Arie. He stated that he'd stopped being friends with Arie years ago because "he's disgusting."
Most recently, Jef tweeted that he'd give $5,000 to the charity of Chris Harrison's choosing if Arie lasted a year with anyone on the show. So he definitely has no faith whatsoever in Arie finding a lasting relationship, let alone an eventual marriage.
In response to Jef's many Twitter digs, Arie hasn't said a whole lot in his own defense, just that he doesn't know why Jef seems to dislike him so much. In an interview with Access Hollywood, Arie said, "He's throwing a lot of shade, but we haven't talked in four years since Sean [Lowe's] wedding." When asked why he thought Jef was so "bitter," Arie replied, "I have no clue. That's kind of a question more for him than for me." He went on to say, "I have so much to concentrate on with this, and I'm just trying to stay positive." The only problem with this statement is it doesn't tell me anything.
There is one person out there who has a theory, and that is Arie's ex-girlfriend from 2013. In an interview with Us Weekly, Selma Alameri Daniels revealed her thoughts on the whole Arie and Jef feud. "I believe Jef has been wanting to be the Bachelor for quite some time, so I'm sure it kills him to see Arie as the Bachelor rather than himself," she stated, "And that's not a dig at Jef, but it's just my honest opinion. Sorry Jef, but usually [when] there is negativeness put out there, it comes from jealously." But, of course, this is just one person's opinion. Perhaps we'll never know how these two ended up falling out with each other.
Regardless, I think we can safely assume Jef won't be appearing on The Bachelor this season, though I would certainly watch the heck out of that episode if he did.
Check out Romper's new video series, Romper's Doula Diaries:
Watch full episodes of Romper's Doula Diaries on Facebook Watch.