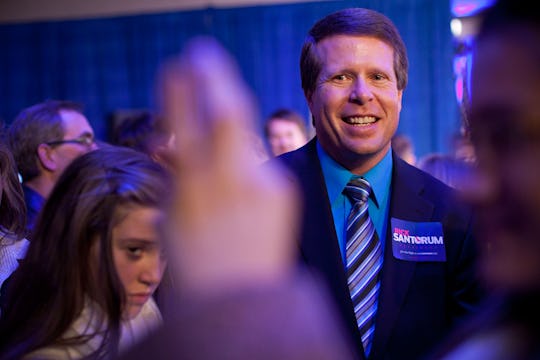 Andrew Burton/Getty Images News/Getty Images
This Is What Jim Bob Duggar Does For A Living, Beyond His TV Fame
While privacy is always important for families and anyone, really, when you decide to have your own reality television show, people are going to start talking about you. And so, even though the patriarch of the Duggar family doesn't have his own show anymore, people still want to know, what Jim Bob Duggar does for a living. Well, he's definitely what you might call a jack of all trades, which makes sense. Truly, with those famous 19 kids (20, really, considering they recently were granted custody of their nephew), Jim Bob would need to rake in some serious dough to provide for the entire family.
And listen, before you get on my case about how mom, Michelle Duggar, could have a job herself, allow me to stop you right there. The family is known for their ultra-conservative views, so it shouldn't surprise you to know that the women of the Duggar family aren't really in the job market. In fact, as In Touch Weekly reported, "women in the Duggar family aren't allowed to go to college or get a job." And really, raising 19 plus children (and helping raise grandchildren) is a full-time job in and of itself, so how does Jim Bob carry his weight? He's done a lot, from real estate to politics, and it seems to have paid off.
According to The Hollywood Gossip, "Jim Bob entered the political arena in 1999, running a successful campaign for a seat in the Arkansas House of Representatives, where he served until 2002." Yes, that was nearly 20 years ago, but it wasn't the end of his political ambitions. From 2002 to about 2006, Jim Bob attempted to get back in the political ring with a run for the United States Senate, as well as the Arkansas State Senate, both of which were unsuccessful, according to BuzzFeed.
But other than getting involved in politics, Jim Bob has had a lot of odd jobs. The Duggar Family Blog noted that the head of the famous household has done a lot more than just star on a reality television show. According to the blog, as newlyweds, "the couple started a car lot business, which is what their oldest son Josh and his wife Anna do now. Jim Bob then started a towing business, which he sold several years later. At that time, the Duggars got involved in real estate."
And it seems as though they've been steadily involved in real estate ventures for a few years now. According to The Today Show, "Both Duggars are real estate agents, and both also host Bible-based "Financial Freedom Seminars." They also own commercial properties." So, while it might seem like they have a pretty flexible schedule, it's not because they aren't working.
And in addition to all of Jim Bob's more typical jobs, it's also important to remember that being a reality televisions tar has its perks, including bringing home a pretty hefty paycheck. A paycheck which recent reports indicate could be upwards of $25,000 per episode. That's right. According to E! News, reality producer Terence Michael estimates that "TLC budgets about $250,000 to $400,000 per episode. And since most reality television families rake in about 10 percent of that, the Duggars would be making between $25,000 to $40,000 "for four or five days' work, which is roughly how long it takes to film a typical episode," according to E! News.
So, while Jim Bob Duggar doesn't work your average 9 to 5, he certainly can provide for his family. And between the family's (multiple) hit shows, the couple's real estate ventures, and their well-known "debt-free lifestyle," it's clear that Jim Bob definitely knows how to handle his money, and it seems to have worked out pretty well for the family.
Check out Romper's new video series, Romper's Doula Diaries:
Watch full episodes of Romper's Doula Diaries on Facebook Watch.