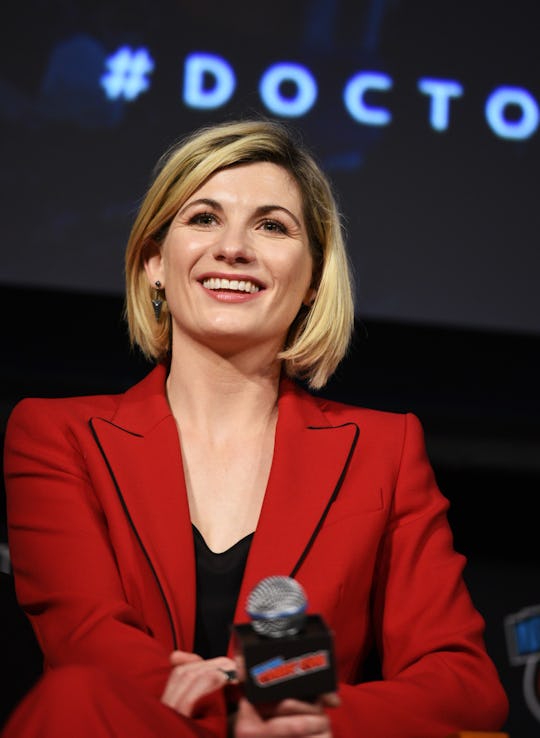 Andrew Toth/Getty Images Entertainment/Getty Images
Jodie Whittaker Says Fan Reactions To Her Turn As The Doctor Are "Amazing"
On October 7, Jodie Whittaker stepped into the role of the Thirteenth Doctor for her run on Doctor Who, and helped draw in the biggest series launch viewing numbers for the show in a decade. Whittaker's take on the Doctor has truly only just begun, but it's already been somthing of a wild ride. Romper caught up with Whittaker at New York Comic Con 760989before the premiere, and the actress was clearly delighted to talk about her new role and the impact her casting has had on Whovians. So what does Jodie Whitaker think of fan reactions to her being the Doctor on Doctor Who, so far? Whittaker is loving the rockstar treatment she's been getting.
At a press event for the new season of Doctor Who at NYCC, I asked Whittaker what her favorite fan reaction to being the new Doctor has been so far, and the animated actress was more than happy to recount a major reaction she received at an event for Her Universe at San Diego Comic-Con International. Whittaker showed up in costume at the event, and fans went wild when they saw the newest Doctor in person in her now iconic new Doctor Who outfit.
"I had this really extraordinary moment at Comic Con in San Diego where we did Her Universe, and it was a surprise…so I was a surprise guest," Whittaker explains at NYCC. "But I got there, and I was taken backstage, and they got my costume and I was going to walk on with my coat, and give a description, there was going to be a surprise announcement."
But Whittaker had other plans. She explains, "But there was this like, catwalk, and I was just like, feeling really confident, I'd had a lot of smoke blown up my ass the last two days, I was feeling like a legend. So I was like, 'I'm gonna walk the catwalk.'" She continues, "But the weirdest thing...because I wasn't at a Doctor Who event, you know, there might not have been one Doctor Who fan there. But I was about three steps into the catwalk when you can hear the realization and the screams and it wasn't turning into boos, it was like…[imitates screaming]. And I was like, 'this is amazing.'"
Whittaker says she had to resist the urge to do a mic drop, and that the entire experience definitely encompassed her favorite fan reaction so far.
But is it any wonder that the first female Doctor on Doctor Who would elicit such a strong reaction? Romper also spoke with Chris Chibnall — an executive producer and showrunner on Doctor Who — and Matt Strevens, an executive producer, before the premiere about how female fans have expressed how they feel about this new season with a woman as the Doctor, and what it's been like to take those reactions in.
Chibnall believed showing the premiere at Madison Square Garden was "going to be one of the most emotional days of our lives." He says, "And obviously we've shown the episode to a very small amount of people so far, and watching it with female fans, watching with women, is incredibly emotional." Strevens agreed when Chibnall said it was "quite hard to talk about it without getting emotional about it," and that the reactions have been "humbling."
Chibnall continues, "I'm married to an awesome woman, I have an amazing sister, and an aunt, and we work with brilliant women all through the show...it really feels like it's a very humbling time to be on the show. It's a privilege to be kind of curating this through." Chibnall also notes that they were careful not to be "meek" with Whittaker's Doctor, and that they wanted her to have some "iconic" and "awesome" moments in the very first episode to portray that.
Strevens explains:
I think one of the most moving things for me, when we first started filming…we'd filmed in Sheffield, and all these mums turned up on set, on location, with their daughters, and they asked for photos with Jodie...And it was just women saying, 'thank you,' to Jodie, and going, 'the fact that my daughters, and my sons, can look up to you...' ...So that was really, really moving as well.
"I hope it just connects," Chibnall concludes. And based on fan reactions — especially from women who are fans of Doctor Who — after the premiere episode, I think it's safe to say: mission accomplished.
The second episode of Whittaker's first season of Doctor Who, "The Ghost Monument," airs at 6:55 p.m. in the UK on the BBC, and Doctor Who airs Sundays at 8:00 p.m. ET on BBC America in the United States.