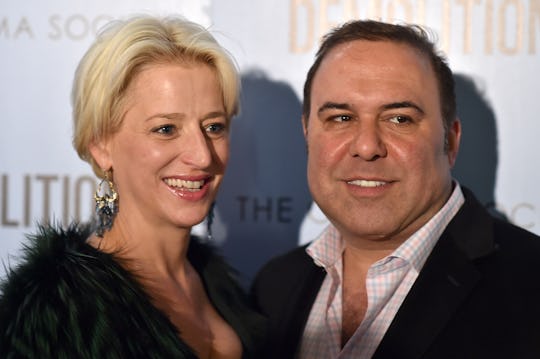 Dimitrios Kambouris/Getty Images Entertainment/Getty Images
What Does John Mahdessian Think Of 'Real Housewives Of New York'? It Doesn't Bother Him
Dorinda Medley's boyfriend John Mahdessian has been making quite the impact on the Real Housewives of New York, and it seems like almost every lady on the show has something to say about him. Bethenny is decidedly not a fan; Ramona is serving scandalous gossip; Dorinda is on the defensive. John himself is an understandably divisive figure — his personality is abrasive, to say the least — and he's certainly not going out of his way to avoid a fight. The question is, what does John think about all the drama he's inspired, or what does John think about the Real Housewives of New York?
John hasn't had anything bad to say about the show — Dorinda is definitely the more vocal half of the couple, despite how easily John starts the drama on the show. His Twitter is free from RHONY mentions, whereas Dorinda is both an avid live-tweeter and quick defender of her man. Her Twitter battling with Bethenny is almost as good as what we see on the show. John himself just sticks to complimenting his lady on social media, painting a somewhat sweeter image of himself than the guy we see onscreen. When it comes to comments on RHONY, Dorinda is the one to look to.
At the RHONY premiere, Dorinda preemptively defended John, probably anticipating the storm that was about to come their way. "Listen, it's a season of questioning again and giving us our two cents, but we don't really care about it," she said. "We love each other." John, who was by her side, added, "But what I say is, how passionate we are the minute we see each other speaks volumes." It definitely seems like they're a team, for better or worse, and their partnership is allowing them to weather the conflict they're having with the other ladies.
Last year, the NY Post ran an interview with John, in which he also expressed just how much he doesn't care about the bad press. He's much more concerned with his very successful dry-cleaning business.
It really doesn't do anything for me because when I go to the Met Gala, the richest, most prominent people recognize me. The higher up you go, the more I'm respected and recognized. In my own little world, being in the business for so many years and catering to the richest people, I'm used to that. It's normal.
John doesn't have a problem with the show or any of the ridiculousness that stems from it – but it's clear the other ladies have a problem with him.