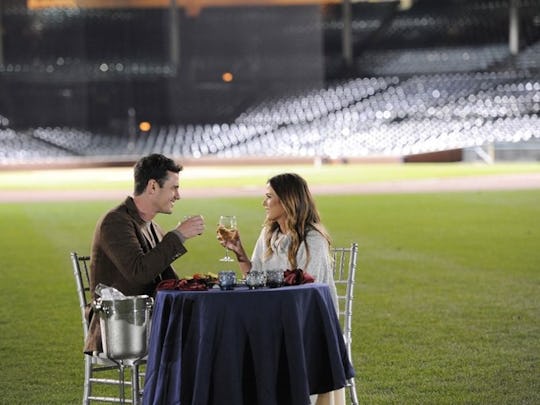 Jean Whiteside/ABC
What Does JoJo's Ex, Chad, Think Of 'The Bachelor'? Chances Are He's Unimpressed
OK, OK, OK — chances are, if you're a JoJo and Ben fan on The Bachelor, the teaser for the show's next episode drove you crazy. And yes, you still have to wait another week until you can find out what happened between Ben Higgins, JoJo Fletcher, and JoJo's meddling ex, Chad Rookstool. (Chad, you're messing with true love here!) We now know that during The Bachelor's hometown visit to JoJo's family in Dallas, Ben and JoJo walked in to find flowers and a letter from JoJo's recent ex, Chad, sitting on the table. (Thanks a lot, Chad.) You might be — along with Ben — wondering: just what does JoJo's ex, Chad, think of The Bachelor?
After a bit of internet reconnaissance, I actually have a couple of theories. Chad hasn't spoken out about The Bachelor at all, and his social media — which is limited to Instagram for the peeking public — doesn't mention it, or JoJo, during Bachelor filming season. At first guess, one might gather that Chad is really not liking The Bachelor. After all, he sent her flowers and wrote her a letter when Ben was due to meet the parents — if that was Chad's intention, then he was definitely looking to throw a wrench in the smoothly-running gears of JoJo and Ben's relationship, and that's now happening on national television.
"I was thinking about what I want for the future," Chad said on a call with JoJo during one episode, as featured on Wetpaint. "And it's you. Listen, I now know what love is, and you showed me what love is."
To which an understandably frustrated JoJo says, "There were so many times you walked away and didn't look back — not even when I begged you to stay. And now you're doing this? Now?"
Which is where my second theory comes in, and in it, I think it's likely Chad actually enjoys watching The Bachelor. At first glance, this might seem like a bad theory, since, you know, he appears to have feelings for JoJo. However, I have a few good reasons to back up my theory. First of all, according to Reality Steve, Chad agreed to watch JoJo's dog while she was off filming The Bachelor. That's usually a task people reserve for close friends, not for exes they're still torn up about. Second, he almost made it onto the dating show Dallas' Most Eligible, according to OK! Here's the Situation, which makes me think that perhaps Chad's mysterious reappearance into JoJo's Bachelor life has something to do with his desire to wile his way into his own Bachelor or Bachelorette season. It would be a good answer as to JoJo's "Now you're doing this?" question, in any case.
So, if my theory is correct, Chad is probably 100 percent down to watch The Bachelor and see how his attempt at stardom plays out. If it's not, then my bet would be that he has nothing good to say about The Bachelor. I guess we'll have to wait and see how things play out on Monday's episode, which will air at 8 p.m. on ABC.