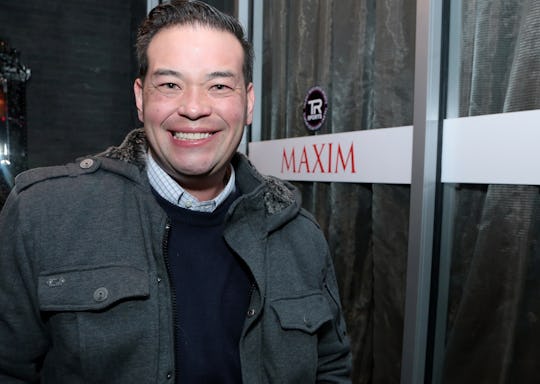 Anna Webber/Getty Images Entertainment/Getty Images
Here's What Jon Gosselin Of 'Jon & Kate Plus 8' Does Now
A little over a decade has passed since the Gosselin family first made their way into American households with their wildly popular reality series, Jon & Kate Plus 8. A lot has happened since the show debuted on TLC in April 2007, including a highly contentious — and public — divorce and custody battle between Jon and Kate Gosselin. Despite the drama, Kate continued to hold the reality TV torch with Kate Plus 8. But what does Jon Gosselin do now? The dad of eight kids has held many jobs over the years — most recently, spinning records as DJ Jon Gosselin.
Gosselin is a member of The Senate DJs, a network of DJs located throughout the east coast, including his home state of Pennsylvania, according to inTouch Weekly. The former reality TV star first disclosed his gig as a DJ back in March in an exclusive interview with Entertainment Tonight, and that he spun records at Dusk Nightclub in Atlantic City, New Jersey. But a review of Gosselin's Instagram account shows that he now travels between clubs.
The 40-year-old dad also told Entertainment Tonight that he handled promotion for The Senate DJs, saying,
I find promotion is more rewarding both financially and emotionally. I like taking care of people and making others feel welcome."
But spinning records wasn't Gosselin's only gig at Dusk Nightclub. The Pennsylvania native also made his debut as a stripper that April, according to Page Six. Gosselin told the tabloid at the time that he would star in three acts of the club's Untamed Male Revue on April 1, which also happened to be the reality TV star's 40th birthday. He described the gig to Page Six as "the last episode in my 30s and the first episode in my 40s."
And he allegedly took his gig as a male entertainer seriously, trimming down to fit the role, according to Page Six. Gosselin said at the time,
I lost weight. I lost 25 pounds — for my health, too. I have hereditary high blood pressure. So I started dieting. My girlfriend is a nurse practitioner. I just try to be healthy.
Although the former reality TV star still has a DJ career, it doesn't seem like Gosselin is stripping any longer. But working as DJ may not be Gosselin's only gig now, either. A source close to Gosselin told Hollywood Life that the 40-year-old dad is also working a full-time job as an I.T. administrator in hopes of gaining more custody of his kids.
The source, an alleged friend of Gosselin's, told Hollywood Life,
Jon's one and only goal in life right now is getting more time with his kids. He's doing everything he can to win their next custody battle. He's totally overhauled his life, he's even back working a regular job again.
The friend added that, while Gosselin still takes DJ gigs, he made the "decision to go white collar" because:
...he knows that's what he has to do to get his kids back. He's really hopeful that this will help him get more time with his kids.
Right now, Jon and Kate Gosselin are locked in a heated custody battle over their eight children, twins Madelyn and Cara, 16; and sextuplets Aaden, Alexis, Collin, Hannah, Joel, and Leah, 13, according to E! News. His lawyer, Kristen Doleva-Lecher, told E! News back in August that the dad of eight is "relentlessly fighting for his kids" and will do everything he can to protect his family. Let's hope his constant DJ gigs and new job as I.T. administrator can help the former reality TV star reach a conclusion that's best for his kids.