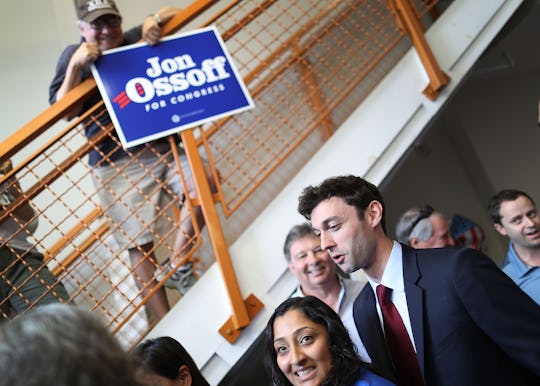 Joe Raedle/Getty Images News/Getty Images
What Jon Ossoff's Loss Means For The Future Of Politics
Back in April, a small special election in Georgia drew national attention. In a crowded field, young Democrat Jon Ossoff needed 50 percent of the vote in order to flip the district from red to blue and, after a surge of support, he fell just short of pulling it off. A few months later, Ossoff and his main Republican rival went head to head once again in a second run-off election, with Handel coming out on top, at last. So what does Jon Ossoff's loss mean for Democrats? The race served as one of the first referendums on President Donald Trump and a test of Democratic resistance — and even after Tuesday night's outcome, it could be a good sign for the midterms in 2018.
The special election and subsequent run-off in Georgia's 6th District, in the northern suburbs of Atlanta, centered on a seat in the House of Representatives left vacant after Tom Price became Trump's Health and Human Services Secretary. The district has long been reliably Republican, voting red since 1979. It's even the place that gave us Newt Gingrich. For the special election, 18 competitors ran in a majority Republican field. Any candidate who wanted to win outright had to capture 50 percent of the vote, and Ossoff looked like the only competitor who had a chance of doing that, albeit a slim one.
Ossoff's failure to reach 50 percent in April — though he came incredibly close to breaching that majority with just over 48 percent — meant a run-off election between the himself and Republican Karen Handel, who came in second to Ossoff in the special election with 19.8 percent of the vote. The run-off was widely accepted as a much more difficult race for Ossoff, given that Republicans had been gifted the chance to consolidate around one candidate. In the end, that proved to be true.
To the frustration of Democrats this week, Ossoff was not able to pull off a win, though he undoubtedly served as an inspiration to his colleagues on the left for what is possible: an actual shot at perhaps turning the district in years to come, if the momentum that fueled his campaign continued on down the line to his colleagues on the left.
Thirty-year-old Ossoff started the race as a young unknown, but he quickly drew huge waves of nationwide support earlier in the year, with millions of dollars in donations pouring in from across the country, and celebrity endorsements from people like Samuel L. Jackson. During the special election, social media blew up with cries to #FlipThe6th. Early voting came in strongly in Ossoff's favor, but the rest of the night turned into a nail-biter, with Ossoff eventually unable to hold onto the necessary lead.
Ossoff's loss in this week's run-off election, however, shows that while the Democratic resistance is strong — and getting stronger with each new election challenge — and that the anger Trump and other Republicans have summoned up with their policy decisions on the Hill and across the country is potent enough to upend conventional wisdom about what is a safe Republican seat.
As those on the right celebrate the good news this week, it seems likely that any Republicans up for re-election in the near future will be a little more nervous about 2018 than before — even if their candidate came out on top.