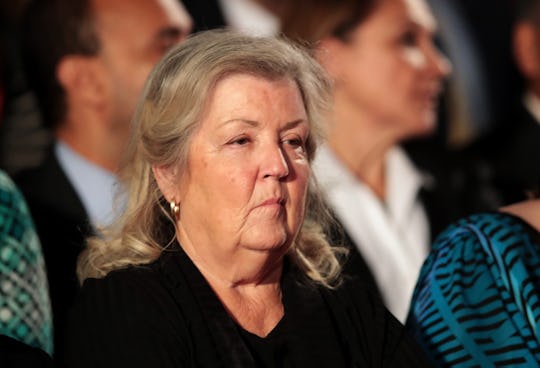 Scott Olson/Getty Images News/Getty Images
What Does Juanita Broaddrick Do Now? She's Voting For Donald Trump In November
With one viral tweet, Juanita Broaddrick made it clear that she was once again ready to speak out about her alleged rape. "I was 35 years old when Bill Clinton, Ark. Attorney General, raped me and Hillary tried to silence me," she posted to her largely unused Twitter account in January 2016. "I am now 73...it never goes away." Broaddrick claims that President Bill Clinton raped her in 1978, while he was still the Arkansas attorney general. (For his part, Clinton has denied the allegations and has never been charged in relation to those claims). Broaddrick now wants to keep the Clintons out of the White House and is telling her story to do just that. So what is Broaddrick doing now, and where did she end up? Broaddrick has made it clear that she's supporting Trump in this election, and her actions on the campaign trail have sparked a conversation about the way politicians and pundits are using women's stories of sexual assault for their own personal advantage.
As BuzzFeed's Katie J.M. Baker noted in a recent profile of the 73-year-old, titled "Juanita Broaddrick Wants to be Believed," Broaddrick poses a significant obstacle for Hillary Clinton supporters (and women on the left, in general) to get around. Liberal politicians have long been more supportive of women who come forward with claims of sexual assault and rape. Clinton herself has been vocal about sexual assault survivor's right to be listened to, as well as their right to be believed. But it's a different story this time around, Baker points out, as conservatives and Trump supporters have suddenly begun championing Broaddrick once again while liberals remain hesitant to openly discuss her allegations.
A woman is, of course, not her husband, and so it feels a bit unfair to blame Hillary for Bill's sexual misconduct (in the same breath, it would be entirely inappropriate to put any of the blame for Trump's alleged behavior on his wife, Melania). There are those who agree with this sentiment, and many who do not. Broaddrick did not intend to start this dialogue. She simply meant to come forward with her story. In the midst of her comfortable retirement, she became a lightning bolt striking the 2016 presidential election.
Broaddrick describes herself on her Twitter account as a "retired nurse and business owner," writing that she loves "working outside, playing tennis, and family time with my son and grandson." She lives in Van Buren, Arkansas, where she resides in what Baker (who visited Broaddrick's home) describes as a "colonial-style mansion" on a secluded 23-acre ranch. Before retirement, Broaddrick worked as a successful nursing home operator.
Broaddrick is one of five women that has accused Bill Clinton of sexual misconduct. While others have spoken out over the years, Broaddrick kept to herself, declining to take the allegations back into the spotlight because, as she told Baker, it was "a horrible stain on [her] life."
Broaddrick is not officially stumping for Republican presidential nominee Donald Trump, but her her personal twitter feed makes it clear that she will be voting for the reality star turned politician. She has even been known to support a Hillary conspiracy theory or two during the campaign. After the vice presidential debate, Broaddrick even sent out a tweet reading "Tim Kaine is a joke. HRC is ill. Can you imagine a President Kaine? God help us all."
In her sit-down with Baker, Broaddrick said that she had "no plans to join Republican presidential nominee Donald Trump's campaign," noting that she knows that many people will not understand her decision to support Trump, who has recently been inundated with numerous sexual assault claims (all of which he has denied). After decades of feeling silenced, Broaddrick has found solace in a quiet life on the ranch and within the conservative party, which seems, in the grand scheme of things, more likely to listen to her story — at least for now.