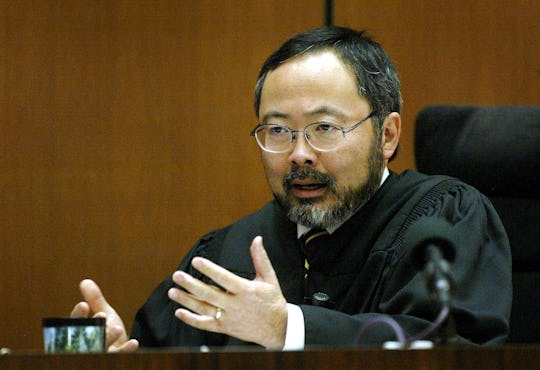 Getty Images Pool
What Does Judge Lance Ito Think About 'The People V. O.J. Simpson'? He's A Quiet Guy
For those involved in O.J. Simpson's 1995 trial, notoriety is difficult to escape. After millions tuned in to watch the verdict, Americans walked away with strong opinions on everyone involved. Now, The People v. O.J. Simpson: American Crime Story is on FX, and the frenzy surrounding the trial has been reawakened. Many of those who actually sat in the courtroom are choosing to stay silent. What does Judge Lance Ito think about The People v. O.J. Simpson? It seems as though he hasn't made a public statement so far, but he hasn't disappeared from the public eye.
After Simpson's acquittal, Ito went on to serve as the judge for about 500 trials, according to NBC News. Former Los Angeles District Attorney Robert Philibosian said that Ito is currently retired, traveling, and spending time with friends. Those who know Ito well say there's a lot the public doesn't know about him. Former commanding officer of the LAPD homicide unit Sergio Robleto told NBC News that Ito has a fantastic sense of humor:
He wouldn't like me saying this, but he was a little jokester. He could joke at himself and others, which makes him a human being. He had a sense of humor, but then it was like: Back to work.
Though it's been 20 years since a verdict in the Simpson case, the trial had a significant impact on Ito's life. Ito's nameplate was often stolen, according to the Los Angeles Times; he eventually stopped replacing it. Though he's still seen as a character in one of the United States' most powerful crime dramas, his decisions continue to have a significant impact on the American court system.
Ito was frequently criticized for allowing cameras inside the courtroom during Simpson's trial, HuffPost Business reported. The broadcast left the impression that good trial lawyers are tricky and open to using stunts to win. Some still believe that turning the trial into a major media event undermined the legal system and made it more theatrical than ethical.
In American Crime Story, Kenneth Choi plays Ito. Choi is known for his roles as Sam Luttrell in Allegiance and Henry Lin in Sons of Anarchy, according to IMDb. Though Judge Ito is still as interesting as ever to followers of Simpson's trial, the real Ito opted for a quiet life. Fans of American Crime Story are probably hoping to hear what he thinks about the series, but it seems unlikely that he'll be embracing the spotlight anytime soon.