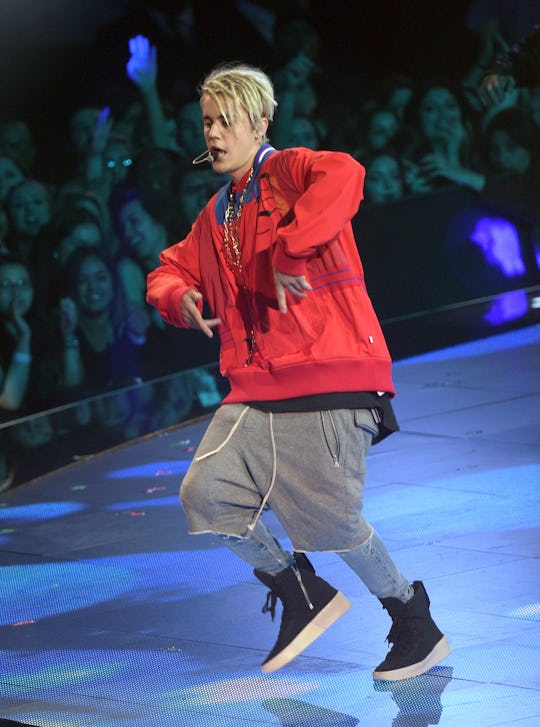 Jason Kempin/Getty Images Entertainment/Getty Images
What Does Justin Bieber's New Tattoo Mean? It's Important To Him, So Be Nice
Justin Bieber got a tattoo this weekend, forcing his fans and lovers of pop music everywhere to ask: What does Justin Bieber's new face tattoo mean? The 22-year-old performer posted a selfie to Instagram on Saturday sporting a little, tiny cross just under his eye. According to Us Weekly, Justin went under the gun at the West 4th Tattoo Parlor in New York City with best friend Joe Termini, who got the same exact tattoo. The artist, Jonathan "JonBoy" Valena, has also inked Bieber's other BFF Hailey Baldwin in the past.
Valena explained in an interview this week that the tattoo was an expression of spirituality for the star. "It represents his journey in finding purpose with God," he told Us Weekly.
Regardless of the tattoo's deeper meaning, some of Bieber's fans are not as thrilled about his new face art as others. One fan wrote that this was worse than when he started rocking dreadlocks. "I had to deal with Justin Bieber getting dreads and that was a lot to handle but now a tattoo on his beautiful face?!" one fan tweeted. "Why!?!?" (By now, you'd think Beliebers would know better than to ever ask "why.") Others got downright mean, tweeting that the tattoo made him look like a "poser."
Aside from the fact that the teeny tiny cross looks kind of like certain types of prison tattoos from a distance, fans of the Bieb are more upset that he has somehow betrayed them. Justin's sported tattoos all over his body for a long time, but he had recently told GQ that he wasn't planning on getting one on his face. At least not until he was "really old." He also said in that interview that he would never get anything "super crazy."
Bieber fans, take a breath. This new, itsy, bitsy cross under his eye still adheres to those guidelines. It may seem like a cry for help to some, or just really cheesy to others, but body art is body art. It's none of your business.
But people have always bullied Justin about his tattoos. The hate has been going on for years, this new tattoo included:
Just because someone has questionable tattoos does not mean that they went to prison — or jail, in Bieber's case. (Prison ink in general doesn't mean someone's a shady individual or that you should judge them anyway, but I digress.) Just because that someone is Justin Bieber doesn't mean that we all automatically get to just make fun of him.
Think of all the things you did when you were 22 years old. A little face tattoo might seem like a good trade at this point in life. At least Justin Bieber he has enough money to get it removed or turned into something else whenever, or if ever, he wants. Let's let the boy live and cherish whatever meaning comes with his new ink.