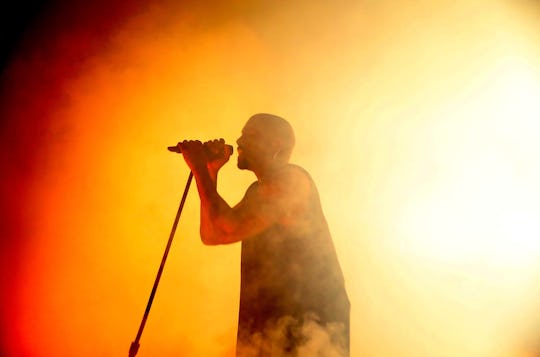 What Does Kanye's 'No More Parties in LA' Mean? The Lyrics Might Reveal That 'Swish' Is Coming
On Monday, Kanye West finally dropped "No More Parties in L.A." on Soundcloud — and it was worth the wait. West previously released a snippet of the song which featured Kendrick Lamar, so the jist of the song was fairly known. But now that the full track is public, so fans can fully decipher what "No More Parties in L.A." lyrics mean.
Between previews and teaser tweets, Kanye and Kendrick fans alike were starting to get a bit impatient. On Jan. 8, West released "Real Friends" and a snippet of "No More Parties in L.A." as part of "GOOD Friday" where he would release music every week until the release of his album Swish, Mashable reported. However, 17.3 million followers were left in the dark Friday, going a week without any new tracks. But earlier Monday West made good on his promise, announcing on Twitter that "No More Parties In L.A." is available on Soundcloud. Though the Twitterverse rejoiced, according to Rolling Stone it is unclear whether the track will appear on his much-anticipated album, Swish, which has no concrete release date as of now.
Teaming up with Lamar, each rapper took a verse in "No More Parties in L.A." Though each recount a different experience, the song has a central theme — that goes beyond partying in L.A.:
Smoke in every direction, middle finger pedestrians
R&B singers and lesbians, rappers and managers
Music and iPhone cameras
This shit unanimous for you, it's damaging for you, one thing
Lamar sets the scene by talking about taking a "country girl" to L.A. The girl is corrupted by the city's elitist and pretentious attitudes. He continues, mentioning that the love interest becomes enamored by celebrity ("She said she came out here to find an A-list rapper") and the city's glitz and glam.
Ladies say "Nam-myoho-renge-kyo"
Make a n**** say big words and act lyrical, make me get spiritual
Make me believe in miracles,
Buddhist monks and Captain Crunch cereal
But he also points out that this temptation goes both ways. He explains how celebrity, and lust, will cause musicians to change their style and convictions to conform. Supporting this is the fact that Lamar cited Nam-myoho-renge-kyo, a Buddhist belief that our lives and the universe work together as one. So, if a woman subscribes to that philosophy, some will follow suit (Buddhist monks) — even if the line of thinking is ridiculous (Captain Crunch cereal).
I was uninspired since Lauryn Hill retired...
I know some fans who thought I wouldn't rap like this again
But the writer's block is over, emcees cancel your plans
Kanye then acknowledges criticism that he's lost his spark musically and explains that, like Lauryn and Andre 3000, who both released highly acclaimed albums and then stopped making music, he just hasn't been inspired to make new music.
But Kanye explains that he's now motivated to get back in the swing of things. (And hopefully finish Swish soon!)
I be worried 'bout my daughter, I be worried 'bout Kim
But Saint is baby Ye, I ain't worried 'bout him
Then, West starts sounding off about his family. He is bothered that his oldest child, North and wife Kim Kardashian West get flak on and offline. But with his second child, Saint, and knowing what he knows now, West said he's better prepared to handle being in the public eye.
I'm too black, I'm too vocal, I'm too flagrant
Something smellin' like sh*t, that's the new fragrance
It's just me, I do it my way, b*tch
Some days I'm in my Yeezys, some days I'm in my Vans
Finally, he raps about how the judgement has affected him on a deeper level. Because he's had an outburst or two in the past, West believes he's been labeled as the "angry black man." And while he has been perceived as too in your face and aggressive, he is who he is. Some days he's a rapper, other days he's a fashion icon. But, West says in the song, at the end of the day, he's himself — and that's all that matters.
Image: Jonathan Leibson/Getty Images (3); Giphy