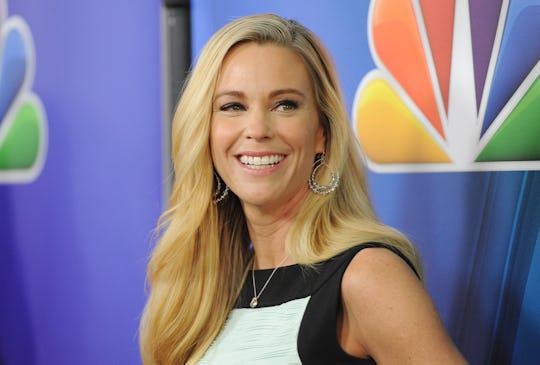 Angela Weiss/Getty Images Entertainment/Getty Images
Here's What 'Jon & Kate Plus 8's Kate Gosselin Does Now
Some of us had met Kate and Jon Gosselin on Home Delivery and their two Surviving Sextuplets specials, but when Jon & Kate Plus 8 premiered on April 10, 2007, the Pennsylvania parents won over the masses. They were filmed adjusting to life as parents of eight children — their sextuplets and twins. But what does Kate Gosselin do now?
The show was incredibly well-received by fans when it first aired in 2007 on Discovery Health then TLC in 2008. According to Entertainment Weekly, the fourth-season finale on March 23, 2009 was the most-watched episode of the series, attracting 4.6 million viewers and beating NBC, CBS, Fox, and The CW among women ages 18 to 34. The original series was so successful, in fact, The Balance reports that it was earning the family an estimated $25,000 to $50,000 per episode. The reality stars also received tens of thousands of dollars in products and matriarch Kate earned hundreds of thousands of dollars each year from speaking engagements, interviews, and from the sales of her books Multiple Blessings (2008), Eight Little Faces (2009) and I Just Want You to Know: Letters to My Kids on Love, Faith and Family (2010).
But more than a decade has passed since the documentary special introduced us.
When PEOPLE asked her what she might change about the past 10 years, Gosselin had this to say:
I wouldn't spend so much time worrying about the messes and the obsessive-compulsiveness and needing to be so in control. I would spend more time nibbling little feet and cuddling up. I should have just rolled around on the floor some. I wouldn't have melted down as much. When you're younger, you may have more energy, but when you're older, you're wiser.
So what is Kate up to these days? According to her Instagram, a whole lot of just that. She's always "cuddling up" and "rolling around on the floor some" with her now-teenage kids and dog, Nanuq.
Kate regularly shares photos of her family relaxing together, like one she posted in September captioned, "Family Movie Night in Mommas room!😍 #Lex#Leah#Hannah#Aaden#Joel#Shoka#Nanuq (Mady and Cara and Mak invited but they had other plans apparently😂) #MeganLeavey#LoveFridayNights#LongWeekend👏🏼"
They even watch their own TV show together. This summer she shared a photo of some of the children playing on the floor with Nanuq as Kate Plus 8 aired on the television in the background.
Kate also graces the internet with photos of herself rolling around on the floor with Nanuq. The photos come in stark contrast to the image depicted of her in the original series — a strict, high-strung parent.
But that's not all. While she doesn't seem to be writing anymore books at the moment, she has been spending a lot of time in the kitchen baking close to 100 pans of cinnamon rolls for the holidays, birthday cakes for her dog and a whole lot of homemade pies. She even baked a cake to celebrate the removal of 13-year-old daughter Leah's braces.
She was, however, met with criticism after captioning an Instagram post of two photos, "Somebody got their braces off today! #CongratsLeah #BracesOffParty #GosselinTradition #BracesOnBracesOffConstantHere." Commenters asked her how she affords all the orthodontist bills and called out Leah's teeth for looking "stained."
In fact, whether she's sharing current family photos or posting throwbacks, Gosselin can't catch a break from internet trolls. "What about the BOYS Kate?!" one commenter asked, according to Entertainment Daily. "Did you look through old photos with THEM TOO?! You love those girls more than you LIKE the BOYS. You've said it before on your show 'boys are just DIRTY.'"
But when Gosselin posted a throwback photo of her son Aaden, she was quickly labeled a "loser parent" by followers who asked where her son Collin is, according to Cafe Mom.
So while Kate's been apparently spending a lot of time with her children — and getting criticized for her parenting — she's also been coping with time spent away from 13-year-old son Collin. PEOPLE reported that he's been enrolled in a program at a live-in learning facility away from home since last summer.
While she wouldn't reveal his specifc diagnosis, Kate told PEOPLE in 2016 that her son Collin has "educational and social challenges" and that the program is "helping him learn the skills he needs to be the best him he can be," but separation hasn't been easy:
There is a huge hole in our family without him here. But it comforts us to know he's where he needs to be right now. I feel like I've made an investment in Collin's future. To know he's somewhere that's helping him reach his very best potential has been a relief in many ways... It comforts me as a mother because when you, as a mom, can't give your kids what they need, it is a huge comfort to find people who can.
Of course, though, we know Kate is no stranger to controversy. In addition to public criticism, Kate is also still battling Jon after their very-public divorce in 2009. The latest custody fight brewed in November and, according to Hollywood Life, Jon Gosselin may now have gotten himself a job as an I.T. administrator because he knows a steady job is a step in the right direction if he wants to see his children.
In short: Kate's been up to a lot of puppy love and pies... and a heck of a lot more drama.
Editor's note: After publication, we discovered this article did not meet our editorial standards. There were portions that did not correctly attribute another source. It has been updated to meet our standards.
Check out Romper's new video series, Romper's Doula Diaries:
Watch full episodes of Romper's Doula Diaries on Facebook Watch.