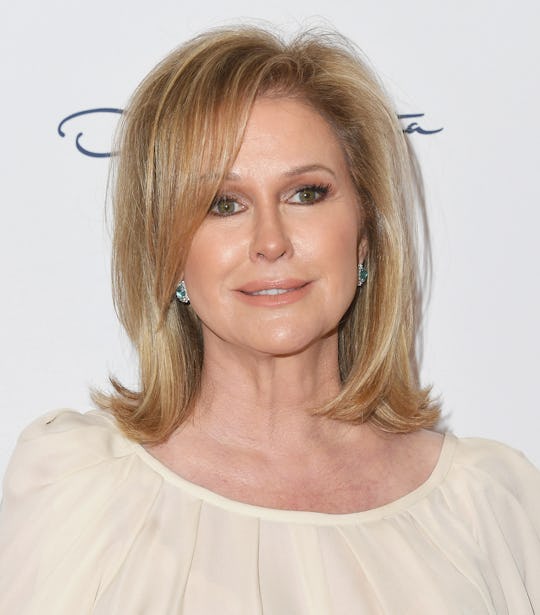 Jon Kopaloff/Getty Images Entertainment/Getty Images
Kathy Hilton Is NOT Happy About 'American Woman'
Fans of The Real Housewives of Beverly Hills are getting ready to watch their girl, Kyle Richards tear it up as an executive producer on her new show, American Woman. The comedy was inspired by Kyle's childhood and is a tribute to her late mother, Kathleen Richards. While her sister, Kim Richards, has been supportive of the project, her other famous sister seems to be staying out of the picture. So, what does Kathy Hilton think of American Woman, and is she supportive of her sister's exciting new venture?
During The Real Housewives of Beverly Hills reunion special, teary-eyed Kyle admitted that her sister Kathy was upset with her over the premise of the show. She went on to tell Andy Cohen that Kathy hasn't spoken to her in nearly six months, because she thinks the show is literally based on their life growing up and feels uncomfortable about it. However, while the show was inspired by Kyle's life, the characters and storyline are purely fictional. In an interview with People, Kyle said:
"I would never tell anyone else's stories -- and I felt bad because she thought it was something that it wasn't. I was inspired by my mom, being a single mom in the '70s. It was a crazy, fun, reckless time. But it's not based on my actual life."
She told the magazine that her mother was her rock throughout her childhood, and as a single mother living in the 70's in L.A., her mom did her best to provide for the family and make ends meet. Through it all, says Kyle, her mom gave her and her sisters the confidence they needed to become successful in life, and American Woman is just a way to celebrate her mom's memory. She tells People:
"My mom was a strong woman, opinionated and outspoken. The way that she raised us was very unconventional. Our house was open and our conversations were open. I started driving to work when I was 13 years old because I was always very responsible. And my mom instilled in us a lot of confidence and trust."
In the reunion special, when Cohen asked her about reaching out to Kathy to put her mind at ease about the show, Kyle said that she has been trying to clear things up with her sister:
"I told her all the time, I said, 'I'm not sharing your stories or Kim's - these are my own stories.' And not only that, it's a fictionalized version of our life, and our mom being a single mom in the '70s is the jumping-off point."
Fellow Real Housewives of Beverly Hills cast member, Lisa Vanderpump, who was also sitting on the panel during the reunion, told Cohen that she had spoken with Kathy the night before. She said that Kathy believes that the absence of their mother may play a part in the lack of cohesion in their relationship and is probably why the two haven't patched things up already.
Kathy's son, Barron Hilton, recently married socialite Tessa Gräfin von Walderdorff in St. Barts, and her entire celebrity family, including Paris Hilton, Nicky Hilton Rothschild, and her billionaire husband and hotel tycoon, Richard Hilton. While sister Kim Richards was in attendance, Kyle was notably absent from the celebrations. People reported that a source close to Kyle said that she only missed her nephew's wedding due to preparations for the upcoming premiere of the show, and it had nothing to do with the rift in the sisters' relationship.
After seeing how torn up Kyle is about the distance the show is causing between her and her sister, I really hope that Kathy realizes that the show is not literally about their life. It would be heartwarming to see the sisters reunite over the show that is dedicated to celebrating the life of their brave and amazing mom. American Woman premieres on June 7 at 10 p.m. EST on the Paramount Network.