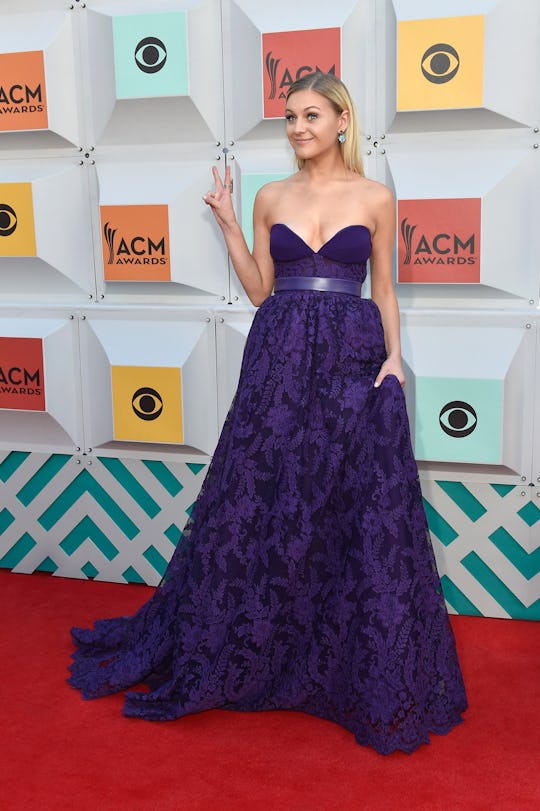 David Becker/Getty Images Entertainment/Getty Images
What Does Kelsea Ballerini's Tattoo Say? It Was Front & Center At The ACM Awards
Singer-songwriter Kelsea Ballerini took the stage at the ACM Awards for the first time Sunday night, and as she performed "Peter Pan," she flashed her wrist tattoo. If you're one of those people who just has to know what a person's written tattoo says, you were likely wondering the same thing as everyone else. What does Kelsea Ballerini's tattoo say?
Ballerini's tattoo is actually a tribute to her faith and her passion for music. It reads "how sweet the sound," a line from "Amazing Grace." She got the tattoo in June 2014 and posted a picture to Instagram, captioning it, "First song I learned, first solo I sang, and now first tattoo."
She further explained her tattoo choice to Country Weekly:
"'Amazing Grace' was the first solo I sang and the first song I learned. I always wanted a tattoo, but I wanted it to be something about music and faith. And I couldn't figure out what it was, until I realized that grace has been a real theme throughout my life. It's one of the biggest gifts to give and get. It's a good reminder."
Ballerini told Taste of Country that she wants to remain genuine and honest with her fans, regardless of her success. "Before we even started everything," she said, "I went and got a tattoo, and posted a picture with a glass of wine, because I was like, 'I need people right now, up front, to know that I try to be a good person and I love Jesus, but I have a tattoo and I drink wine.'"
The script is a nice addition to any outfit, and it definitely shone on the ACM Awards stage on Sunday. Now that you know what Ballerini's tattoo says, you can now rewind your DVR and focus solely on her "Peter Pan" performance, rather than obsessing over what her tattoo says. (You're welcome.)