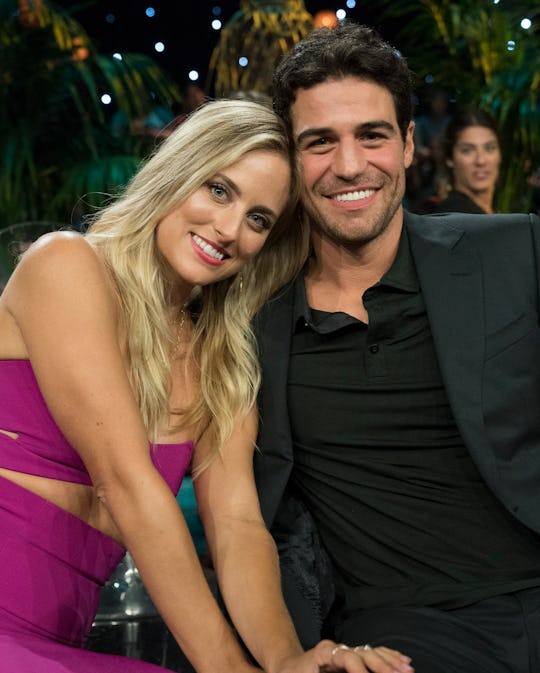 ABC/Paul Hebert
'DWTS' Is *Definitely* Helping Kendall & Grocery Store Joe's Relationsip
Fun fact: Cutest new couple award undoubtedly goes to Bachelor In Paradise alum, Kendall Long, and Dancing With the Stars fan favorite, "Grocery Store Joe" Amabile. Another fun fact: Their pairing is like a rainbow haloed over an amber field after a thunderstorm. The entire last season of BIP only felt complete after the live finale that revealed the previously split couple had reunited. Do you hear the heavens sing? I do. With dance now part of his resume, Joe's been pretty vocal about his lack of experience on the dance floor, but what does Kendall think of "Grocery Store Joe" on DWTS?
The 27-year-old LA native and taxidermy connessiuer previously explained to Us Weekly what she adores most about the beloved grocer saying, "I feel like the one thing with Joe is that he's just very honest and genuine and puts it all out there with who he is. He doesn't really hold back. That was one thing that I really appreciated here on Paradise. I just cracked up so hard." This is the exact reaction BIP fans hoped for. Once detective Twitter spotted Kendall in the DWTS audience with a great big ole grin, all was right in the world. During the premiere, Kendall was all eyes for the adored grocer. As he fumbled his way through the quickstep with pro partner, Jenna Johnson, and only garnered a 14 out of 30, Kendall took to Instagram to rally the troops for her man and the picture is adorbsville dot com. The caption read "Joe got on stage and DANCED! So happy he is working hard and going for it!! Make sure to vote tonight!!"
Her post worked like magic and Grocery Store Joe advanced to the next round. She posted again after the results show. "Thank you so so so much to everyone who voted for this sezzy, dancing machine!! Because of you, Joe will be practicing his booty off and back on stage dancing Monday! So proud."
So how'd they get here so fast? Joe — who gained his monicker as a Chicago grocery store manager — got his first shot as TV heartthrob on Becca Kufrin's season of The Bachelorette. That was short-lived because he was eliminated on the first night. Luckily, Bachelor Nation fans chimed in, demanding more of that special Joe charm and thus he got a second chance at finding love on Season 5 of Bachelor In Paradise. Meanwhile, Kendall appeared as a contestant on Arie Luyendyk's season of The Bachelor before heading to Bachelor in Paradise and the rest is history.
The invitation to dance on Season 27 of DWTS came as a complete surprise to Joe, Kendall, and viewers during the BIP reunion episode. Sneaky host, Chris Harrison, asked the lovebirds what their plans were moving forward adding, "would you guys like to be in the same place at one time?" And though hr responded in total Joe-form with: "eventually, yeah, of course," Harrison said he could help them be in the same city. "I know some people and I pulled some strings," he said. "I have procured you a spot on Dancing With the Stars." Kendall urged Joe to do it so basically she's the reason TV gets the gift of more Joe every Monday night. And though Amabile admitted he can't dance and has never pretended it's something he's comfortable with, Long said he actually can dance "when he gets a couple drinks in him." Same, honestly.
As for her feelings on Joe and their relationship in general, Kendall spoke with Access Hollywood after the BIP finale reunion. She said they're "drawn to each other in some weird way" and went on to discuss how the two would "seek refuge in each other to laugh, relax, and let go of everything." She hopes to help him destress from everything going on by laughing and "cracking up" together and fans everywhere are collectively going "aww."
In an interview with WOTV before DWTS aired, Joe confessed he almost turned down the offer to dance saying "I'll never, ever be able to do this." He followed up adding "it's been fun so far," even though he's "worried and nervous." Joe hasn't been shy about calling Kendall his girlfriend and yes — that sound you hear? Hearts melting. He told ET Online his thoughts on whether or not Kendall would be there to cheer him on or not. "She better or we are going to break up," he joked. "Yeah, she will be there." Never one to let her dude down, Kendall did show up, showing Joe fans their relationship is strong enough to go the distance. Maybe even the jive.
To be fair though, even Joe's mom, Gina, is nervous about this new gig. She told Chicago Tribune he really can't dance. "I'm like a nervous wreck because he can't dance." Me, too, Gina. Me. Too.
No matter how Grocery Store Joe fares this week, at least fans can sleep well knowing he has Kendall's arms to fall into. *Sighs* TV reality love at its finest, thanks to Bachelor Nation.