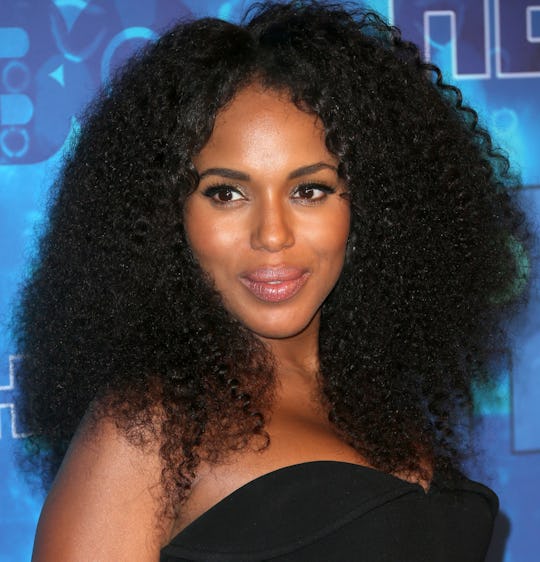 Frederick M. Brown/Getty Images Entertainment/Getty Images
What Does Kerry Washington's Son's Name Mean? It Has Religious Roots
On Tuesday, Kerry Washington and her husband, Nnamdi Asomugha, welcomed their second child, a boy named Caleb Kelechi Asomugha, according to E! News. Fans can't wait to catch a of the new baby, but they're also wondering what Kerry Washington's son's name means – particularly that middle name, which is pretty unique. While Caleb is a Hebrew name meaning "faithful" or "whole hearted," Kelechi is Nigerian, and it means "Thank God" or or "Glorify God." The name is common among the Igbo tribe. Although Nnamdi was born and raised in the United States, his Nigerian-born parents kept him in touch with his Igbo roots. As he explained in his Raiders biography, "I feel pretty strongly about [my heritage] because that's what I was raised on. That's my culture."
This is the second time that the couple has combined Western and Igbo names for a child; in 2014, Washington gave birth to their daughter Isabelle Amarachi Asomugha. Similar in theme to her brother's name, Isabelle is derived from the Hebrew name Elisheba, and means "oath of God," and Amarachi is Igbo for "God's grace." Unfortunately for fans hoping for pictures of the kids, it doesn't look likely. Washington told Page Six last year that she doesn't share photos of Isabelle because she's "a really private person." However, she added that "I feel like at some point you will [see her]," so all hope isn't quite lost.
Washington calling herself "a really private person" is an understatement. Nobody even figured out that she was dating Asomugha until after the couple had already gotten married. In a funny twist, E! Online actually posted two stories about the couple on July 3, 2013 – one stating that a source confirmed the two were dating, and another saying that they got married on June 24. Nobody even knows how or when the couple first met.
Speaking at South by Southwest this past March, Washington touched on her preference for privacy: "If I don't talk about my personal life, it means I don't talk about my personal life. That means not only did I not tell you when I was getting married, it also means if somebody has rumors about what's going on in my marriage, I don't refute them, because I don't talk about my personal life." Message received! And that goes double for her kids; with regards to sharing pics of Isabelle, she said, "I want her to make her own decisions in her time," the actress explained. "She should be able to enter this world when it feels right for her." Fine, then, we'll just have to use shady CGI technology for now.