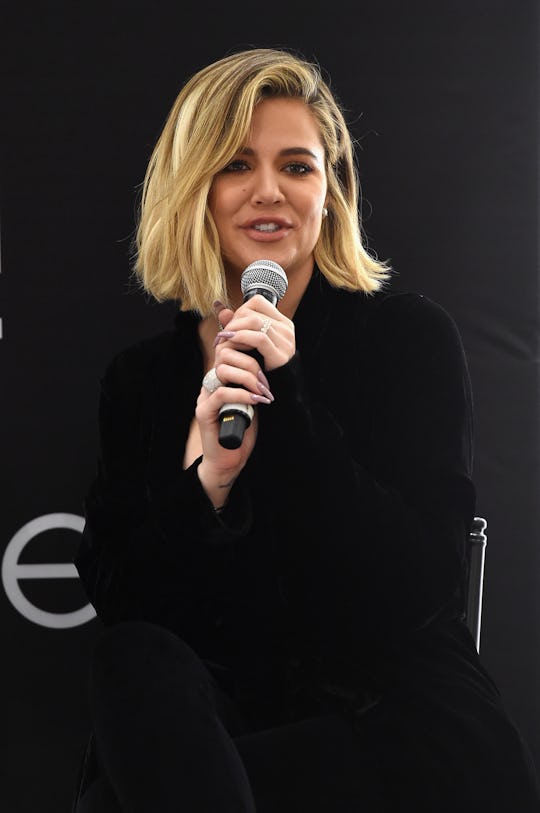 Jamie McCarthy/Getty Images Entertainment/Getty Images
What Does Khloe Kardashian's Pregnancy Announcement Mean?
While the Kardashian-Jenner family has basically always been a handful of marketing masterminds, that doesn't mean everything they do has some kind of hidden meaning. Well, maybe it does. So now that the news has finally been confirmed, what exactly does Khloe Kardashian's pregnancy Instagram mean? After all, is that a ... ring on her finger in the artsy black and white image?
Until now, Khloe has kept completely silent about her pregnancy, as has the rest of her famous family. However, on just before Thanksgiving, Us Weekly reported that the 33-year-old was finally getting ready to announce her pregnancy to the world, and now, it seems as though they were right. Khloe's pregnancy announcement is equal parts a love letter to the father of her baby, Tristan Thompson, and a flat-out message of gratitude and joy. "My greatest dream realized!" the reality star writes.
Of course, many are still wondering when Khloe's youngest sister, Kylie Jenner, will address the rumors of her reported pregnancy. It was first reported that Khloe was expecting her first child with boyfriend Tristan in September, and time has appeared to move excruciatingly slow since then as the world waited for someone to address the rumors. Even Ellen DeGeneres did her best to try and get momager Kris Jenner to confirm the rumors, and sister Kim Kardashian drank a sardine smoothie instead of saying anything about her sisters' pregnancy rumors.
But now, it seems as though Khloe is finally ready to talk for herself. And isn't that what her family members have been saying was going to happen all this time? Speaking to DeGeneres, Kim Kardashian addressed her sisters' pregnancy rumors by not addressing them, telling the talk show host,
Alright, I'm going to break it down. This is how we work in the family. When there are lots of rumors, we have this family group chat and we threaten each other's lives if we speak for the other one...We just decided there's so much that goes on that we respect each other's right to speak for themselves, so I will speak about myself. Hopefully they can come on and address whatever rumors you might have.
Although Kylie has yet to say anything about her own reported pregnancy —nor will she, for a while, it seems — Khloe has finally taken the time to speak out about hers.
In her post, Khloe thanks God for the gift of her baby-to-be. "I had been waiting and wondering but God had a plan all along," she shares. "He knew what He was doing. I simply had to trust in Him and be patient."
She also shares pretty clear feelings for her baby's daddy:
Tristan, thank you for loving me the way that you do! Thank you for treating me like a Queen! Thank you for making me feel beautiful at all stages! Tristan, most of all, Thank you for making me a MOMMY!!! You have made this experience even more magical than I could have envisioned! I will never forget how wonderful you've been to me during this time! Thank you for making me so happy my love!
And, she doesn't forget the rest of the people who love her... her fans! "Thank you to everyone for the love and positive vibes!"
So, why exactly did Khloe choose to announce her pregnancy at this exact moment in time? Well, many have pointed at her mom's recent Instagram post having had spilled the beans about all the pregnancy rumors in the family. In the photo, there are seemingly nine pairs of children's pajamas, with several names of Kris' grandchildren written on tags.
Reign, Mason, Penelope, and Saint are all visible, but that begs the question: Kris only has six known grandchildren and there were nine sets in the photo alongside the caption of Kris thanking Burt's Bees for "the most amazing collection of family jammies ever and i am obsessed with the plaid !!!!! Can't wait to cuddle up with the kids."
As sister Kim Kardashian has already confirmed that she and husband Kanye West are expecting their third child together via surrogate, do the other two pairs of pajamas serve as Kris subtly confirming Khloe and Kylie's pregnancies? Well, not much can be said for Kylie, as she is choosing to stay mum about the whole ordeal. But now that Khloe has confirmed, it seems imminent that Kylie will as well, should the reports be true.
Khloe does explain a little bit about why she kept silent until now. "I know we've been keeping this quiet but we wanted to enjoy this between our family and close friends as long as we could privately," she shares.. and that's certainly understandable, even for a woman who lives her life in the spotlight.
Basically, Khloe's pregnancy Instagram means just what it says: she's having a baby, and she couldn't be more thrilled and thankful. Of course, it's hard to not be curious about that ring on her finger... does this mean another announcement is on the way soon? Who knows?! The most important thing is that Khloe and her baby are happy and healthy. Congrats!
Check out Romper's new video series, Romper's Doula Diaries:
Watch full episodes of Romper's Doula Diaries on Facebook Watch.