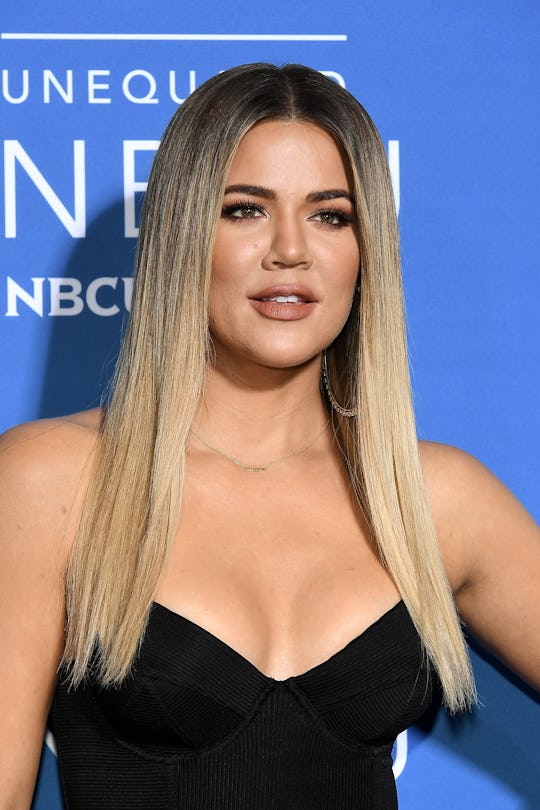 Dia Dipasupil/Getty Images Entertainment/Getty Images
Here's What Khloe Thinks Of Kim & Kourtney's Feud on 'KUWTK'
Reality TV always comes with plenty of fights and feuds, but no one does it quite like the Kardashians. During the premiere of Season 15 of Keeping Up with the Kardashians, Kim and Kourtney got into a huge fight, which trickled over to Twitter for the world to witness. But what does Khloé think of the Kim and Kourtney feud? It looks like she just wants to keep the peace.
It can't be easy to choose one sister over another, and Khloé seems to be playing it neutral while the girls hash things out. When the premiere episode aired, all three sisters took to Twitter to comment on the feud. Kim and Kourtney went at it with each other with their tweets. But when one Twitter user asked Khloé whose side she was on, Khloé responded, "I just wanted peace."
But rather than keeping that intended peace, Khloé's tweet seemed to spawn resentment from Kourtney. In a tweet, Kourtney questioned Khloé's neutrality during the feud, which seemed to throw Khloé for a loop. In a series of tweets to Kourtney, Khloé asked how her sister could question her motives, even when she called her after the fight to see if she was OK. "Please explain when I ever jumped in on that situation. I'm the one who f*cking called you to make sure you were good," tweeted Khloé. "All I wanted was peace and stress free moments during my pregnancy."
Putting Kim and Kourtney's spat aside, Khloé seems to have her own frustrations with her eldest sister. In a sneak peek of Sunday's episode of KUWTK, the sisters discussed ways they could mend their divide. The tension was deep between the sisters, and Kim and Kourtney seemed to be odds about whether they should to go to therapy to work things out.
But in the clip, Khloé seems more agitated with Kourtney's lack of communication than anything else, and when she presses her for some feedback, Kourtney continues to glare at her phone. "I'm trying to talk it out with her, but instead of actually talking it out she's editing a photo on her phone and with this ridiculous smile on her face," Khloé says in a confessional.
So how did all this drama begin? It all started around the scheduling of a Christmas photo shoot. In the premiere episode, Kim had changed around the schedule for a previously planned family holiday shoot, which would feature the entire Kardashian clan. But Kourtney was unhappy with the rescheduling, saying that she had planned on spending that time with her kids.
That's when Kim lashed out at Kourtney. "No one wants you in the f*cking shoot. Get the f*ck out of here and go," Kim yelled at Kourtney in the episode. She went even further to insult her older sister after she left the room, telling Khloé and her mom, Kris, "I need Kourtney to not be so f*cking annoying with a stick up her a** like she f*cking runs this sh*t because she doesn't. She's the least exciting to look at."
But despite all the issues the sisters have with each other, they always seem to work things out. Right after their Twitter feud, the three were clear that they harbor nothing but unconditional love for one another. "Don't ever get it twisted, me, Kourtney and Khloé are GOOD! ALWAYS!!!! Never question that!" tweeted Kim.
But having two sisters myself, I think that Khloé's tweet really summed up what it feels like to have sisters. "Sisters fight," she wrote, "but we love even harder than we fight."