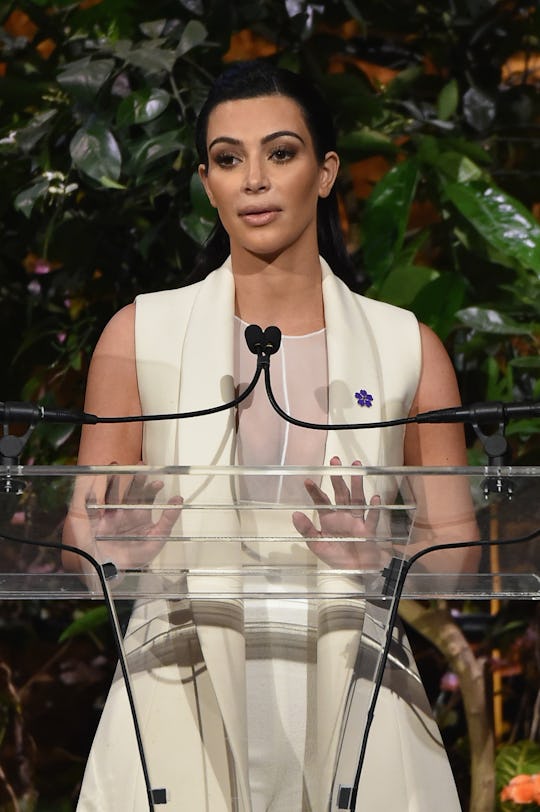 Theo Wargo/Getty Images Entertainment/Getty Images
What Does Kim Kardashian Think Of Blac Chyna's Pregnancy? She Finally Spoke Out
Kim Kardashian: The peace-keeper. Sounds strange, right? Well, since her brother Rob Kardashian's fiancée Blac Chyna announced her pregnancy, it seems that Kim has taken the high road and accepted the model into her family with open arms. At an appearance on Wednesday, Kim Kardashian finally spoke out about Blac Chyna's pregnancy publicly. Entertainment Tonight caught up with the reality star at the Cannes Film Festival to find out what she really thinks about Rob's impending fatherhood.
Although the relationship between Kim, Rob and his fiancée (and her one-time BFF) Blac Chyna has seen some ups and downs, it seems that the Kardashian clan has decided to put the past behind them ever since the couple announced they were expecting a child together in early May. Case in point, Kim only had good things to say about her brother's relationship with Chyna and their pregnancy news on Wednesday in Cannes, France. "I'm really happy for them," the Keeping Up With the Kardashians star told ET.
"I mean, it's so exciting," she gushed. "It's exciting time for him."
Kim once accused Rob of having "no loyalty" when news first broke that he was dating Kardashian-rival Chyna, but it seems she's come around to their relationship since. The reality star was the first of the Kardashian women to offer her support to the expectant parents on social media — in typical Kardashian-fashion — by "liking" their emoji announcement on Instagram. The reality star has even been spotted out with the couple in Los Angeles this past month.
Kim praised her little brother to ET. "I think he'll be the best dad," she said, giving him the greatest compliment for any soon-to-be parent. "He's really just such a good, good person," she added.
Even if Rob does struggle with parenthood, he's got some great resources in his family to help him out. Kim admitted that she and husband Kanye West had been constantly giving Rob parenting advice, whether he asked for it or not. "We give him—I think more me, you know—gives him advice," the mother of two said.
Blac Chyna, mother to 3-year-old King Cairo, dished that Kim had been offering her some mommy how-to's as well. "She gives me a lot of tips, actually," the model told E! News in an interview last week.
For his part, Rob is equally as psyched to become a first-time father. "I mean it's my first time, so everything is exciting," the sock mogul told E! News in that same interview. He did admit that his parenting style may stray from the Kardashian-rulebook in one way: privacy. "I just like to keep it, you know, keep it private," Rob said during his first on-camera interview in two years. "As private as it can be."
Although I'm not the biggest Kardashian fanatic, even I can admit that it's nice to see Kim making nice for the sake of family and supporting her baby brother.