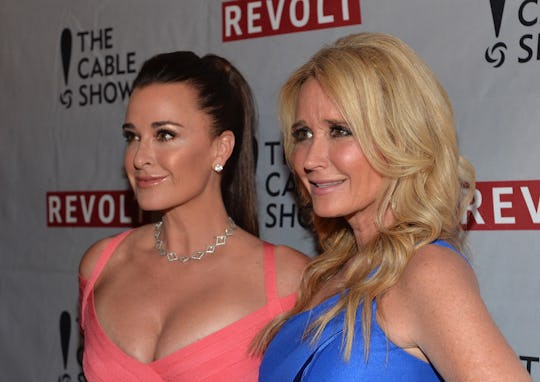 Alberto E. Rodriguez/Getty Images Entertainment/Getty Images
What Does Kim Richards Think About 'American Woman'?
The new comedy series, American Woman, is taking you back to the '70s, and while it's telling the story of fictional character Bonnie Nolan (Alicia Silverstone), it's actually inspired by the life of the late Kathleen Richards, mother to Real Housewives of Beverly Hills stars Kyle and Kim Richards. Kyle is the executive producer of the new series so it's clear she's in full support of it, but what does Kim think of American Woman?
Kim hasn't yet opened up publicly about her thoughts on the show, but according to Kyle she's seen it. During an appearance on Watch What Happens Lie with Andy Cohen last month, Kyle opened up about her relationship with both of her sisters — Kim and their half-sister, Kathy Hilton. Though she said her relationship with Kathy is still on the rocks, she said, "Kim and I are fine. Yeah, I sent her the DVD [of American Woman]."
However, in an interview with the Los Angeles Times, Kyle said Kim hasn't been able to figure out how to work her DVD player and she couldn't come to the screening because she was babysitting her grandson. Thus, it sounds like Kim hasn't seen the show at all yet, though that doesn't mean she's not in support of it. Perhaps Kim is just indifferent about the series, as the show appears to only be loosely based on her mother's life anyway. Kyle, on the other hand, is very proud of the show and even told Megyn Kelly on Megyn Kelly Today that the show is a "love letter to my mom."
She also opened up to the Los Angeles Times about why she felt it was so important to tell her mom's story:
When my mom passed away, I thought, "I really wanna share who she was, because she really was a special and unique woman." And it took my being a mom and an adult to have that extra appreciation for her...She wanted the best for us, and you know, she was doing her best like we all are trying to do. And I just really wanted to share that story once I lost my mom as a, I guess, sort of love letter to her, too. And just inspire other women.
Although the show is based on Kyle's mom, she also makes it clear that the show is fictional, not autobiographical. In the series, Bonnie's husband cheats on her just like Kyle's father did, but unlike the dad in the show, Kyle made it clear to the Los Angeles Times that her dad was a "good guy."
"It's inspired by, not based on," she added. She's also hopeful that Kathy will see that the show is only a fictionalized version of their lives and they'll be able to move past the rift the show has caused in their relationship. For now though, the two sisters remain on the outs.
Despite the family drama the show has caused, it looks like American Woman will be a hit. It definitely has the feel of an empowering TV show for women, as Kyle wanted, and it also looks to be quite humorous. Additionally, the cast is phenomenal. Starring alongside Silverstone are Jennifer Bartels and Mena Suvari as Bonnie's friends Diana and Kathleen. Besides showing how Bonnie deals with her divorce and becoming a single mom, the show will also dive into women's fight for equal pay and the sexual exploration that took place during the '70s.
All in all, American Woman is definitely a show you should give a watch. You can catch the show's premiere on Thursday, June 7 on the Paramount Network at 10 p.m. EST.