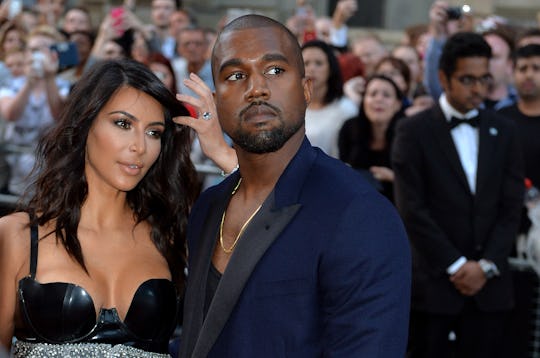 Anthony Harvey/Getty Images Entertainment/Getty Images
What Does Kim Think About Kanye's Rants? Her Own Social Media Accounts Might Hint At The Answer
Kanye West's recent Twitter antics have been hard to miss. They were the fanfare and fireworks for the release of his latest album, the confused, controversial The Life of Pablo. Many celebrities have made their opinions of his Twitter feuds, conspiracies, and ramblings quite clear, but what does Kim think about Kanye's rants?
First, a primer on West's latest rants. During Swift's Grammys acceptance speech, the singer took the opportunity to put West in his place. In "Famous", which some have called an overtly sexist song, West takes credit for Swift's global renown. One of the song's lyrics reads, "I feel like me and Taylor might still have sex/ Why? I made that bitch famous." The line is crass at best, and though West claimed Swift said just as much to him in private, her response suggested otherwise. Thought she never said his name, Swift's response on Monday night was pretty clear:
I want to say to all the young women out there, there are going to be people along the way that will try to undercut your success or take credit for your accomplishments or your fame, but if you just focus on the work and you don't let those people sidetrack you, someday when you get where you're going, you'll look around and you'll know that it was you and the people who love you that put you there and that will be the greatest feeling in the world.
Needless to say, this controversy set West on a Twitter rampage, with the rapper claiming that he was being censored as an artist, that he was misunderstood, and that everyone was overreacting:
Days earlier he came out with this almost unanimously disliked Tweet about Bill Cosby that made everyone wonder if he was okay.
... And before that West was embroiled in a Twitter fight with Wiz Khalifa that was watched by millions (which has since been deleted). During that back and forth, he unfortunately besmirched his ex Amber Rose, who's since had the last word, despite him releasing a statement about it.
Other recent rant topics include debt:
Er, sort of?
... And textbooks:
It's hard to imagine that wife Kim Kardashian and West don't talk about this stuff. So, what does she think of these unchecked Twitter soapbox speeches? West himself might be able to explain that. During the backlash against his lyric about Swift, he tweeted this:
But, was Kardashian actually cool with it? Apparently not. An insider claimed to People recently that while Kardashian is obviously a "very supportive wife" and "rarely complains," she reportedly does not approve of his Twitter ranting.
The source went on to claim,
What causes friction in the marriage, however, is Kanye's compulsive tweeting. Kim can't stand it. She is all for self-promotion, but doesn't approve of Twitter drama. She was very mad about Kanye's Amber Rose drama. Kim is a mom and wants to be a role model. She doesn't want to be involved in ridiculous drama.
Days after West's Twitter fight with Amber Rose, Rose and Kardashian posed for a selfie together, which was, presumably, Kardashian's attempt at smoothing things over.
The source also said that "the album is getting tons of attention now, and this was the plan." So is it all a PR stunt to generate buzz for this album and West's myriad other projects? If it is, the Kardashian's appear not to be in on it. Another source told Confidenti@l that "he had the Yeezy show, he's putting out his album, then he changed it.... They think he's acting totally crazy and don't know what's going on." Whether that's the truth or not is unclear — but for now, Kardashian seems to be keeping mum.