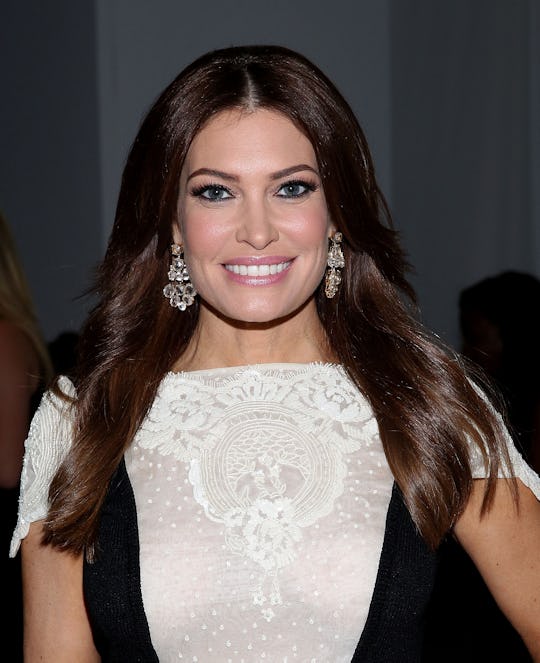 Robin Marchant/Getty Images Entertainment/Getty Images
Kimberly Guilfoyle Only Has Nice Things To Say About Sean Spicer
Many people have either grown to love or hate White House Press Secretary Sean Spicer over the first few months of the Trump administration. Spicer's rather unique personality and penchant for avoiding the tough questions has put him under the spotlight — and President Donald Trump's rumored White House shake up reportedly has him on the outs (the the White House insists that's not the case). Among those rumored to possibly be in talks to replace him (again, just a rumor at this point) is Fox News host Kimberly Guilfoyle. But while plenty of people have already established their own thoughts on Spicer, what does Kimberly Guilfoyle think of Sean Spicer?
On Wednesday, the Associated Press reported that Guilfoyle had been in "conversations with the Trump administration" about replacing Spicer as press secretary. The current Fox News host has previously expressed interest in taking the job, or doing another press related job in the White House. But even though she's rumored to be taking his spot, Guilfoyle only has nice words to say about Spicer. In an interview with The Mercury News, Guilfoyle opened up about the current press secretary, telling the newspaper:
Sean Spicer is a very nice man and a patriot; he's dedicated himself to this public service. Very tough position he's in — I wish him the best, and I know he puts a lot of effort into it.
Guilfoyle's comments about Spicer are refreshingly friendly — especially since, you know, Spicer has not actually been fired yet. Yeah, it's a little awkward.
Rumors surrounding Spicer's alleged lack of... well, future at the White House began surfacing last week when, according to The New York Post, Spicer didn't do a great job defending the president's decision to fire FBI director James Comey. But as of this Wednesday, Spicer still had his job, routinely delivering the day's news briefing to reporters.
Despite her nice words about Spicer, Guilfoyle has professionally critiqued his performance in the past. Last week, Guilfoyle made comments about Spicer's job as press secretary, stating on air:
If you want to be successful and do communications with President Trump, you have to be someone who he actually wants to spend a little bit of time with. You've got to insist of getting in front of POTUS, talk to him, and have like, five, six minutes with him before you go out there and take the podium, otherwise you're just driving blind.
In December, before Spicer was chosen to be press secretary, Guilfoyle was reportedly in the running for the position. Yet, according to Politico, Guilfoyle has a "long term contract with FOX News" which might be a little hard to get out of.
Whether Guilfoyle will actually become press secretary and replace Spicer is still up in the air. But one thing is for sure — Guilfoyle thinks nothing but good things of Spicer as a person.