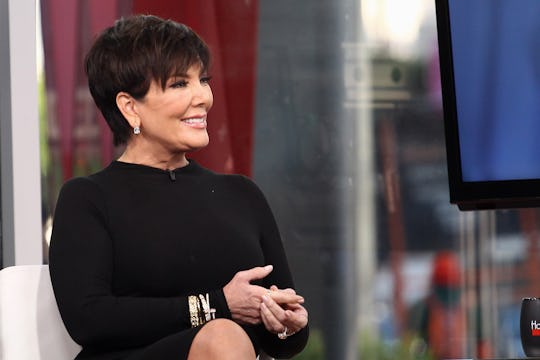 Tommaso Boddi/Getty Images Entertainment
What Does Kris Jenner Think Of 'American Crime Story'? She's Deeply Conflicted
On Tuesday, American Crime Story — a new, "true crime" anthology series — will premiere on FX. Created by Scott Alexander and Larry Karaszewski, the first season — subtitled "The People v. O.J. Simpson" — will focus on the murder of Nicole Brown Simpson, O.J. Simpson's ex-wife, and O.J.'s subsequent trial. And while I cannot wait to see what this show has to offer, not everyone is excited about the series — especially those who knew Nicole or O.J. But what does Kris Jenner think of American Crime Story? She has serious mixed feelings, because she was close friends with Nicole.
Jenner met Nicole and O.J. when she was just 17 years old, through future husband (and, now, ex-husband) Robert Kardashian. Jenner and Nicole quickly became friends and, before long, their families were inseparable, according to People:
For nearly two decades the Kardashian-Simpson clans shared vacations with their children...countless birthdays and [they] supported each other through good times and bad.
Jenner told People that she was very close to Nicole and O.J., so Nicole's death had a serious impact on her:
They [Nicole and O.J.] were two of the best friends I ever had in my entire life. They were my family.
Jenner worked with closely with American Crime Story. According to Hollywood Life, she helped actor David Schwimmer prepare to play Robert Kardashian, and she spoke with Selma Blair — who is portraying Jenner herself. However, that doesn't mean she doesn't have mixed feelings about the production, according to People:
This is going to introduce a new generation to this thing that took place that was so horrific. It could have been prevented [and it will undoubtedly open old emotional wounds].
It wasn't until O.J.'s trial that Jenner learned Nicole was allegedly abused. Jenner told People she still cannot believe she "missed the signs," and to this day she feels guilty. She feels she could have saved her friend:
I saw all the pictures and the police reports and I heard tapes of Nicole calling 911 [after she was abused by O.J. and]...that was stuff I didn't know anything about. I beat myself up because I felt like I wasn't paying attention. Like, how did I miss this? But that's typical in an abusive relationship – that the woman doesn't speak out about how she's being treated [even to her closest friends].
O.J.'s attorneys — Patricia Palm, Ozzie Fumo, and Tom Pitaro — did not immediately respond to Romper's request for comment. Further, it seems O.J. has never publicly acknowledged or denied these claims. The only incident he seemingly responded to was in 1989, when O.J. pleaded no contest to charges of spousal abuse, according to the Chicago Tribune. He was later sentenced on these charges to 120 hours of community service and two years' probation. Judge, Ronald Schoenberg, also fined him $200 and ordered him to give $500 to a shelter for battered women.
Jenner hopes American Crime Story will help shed light on domestic violence, a very real – and very widespread – issue:
Domestic violence is a real tragedy in our lives...[Nicole's death] could have been prevented. I have five daughters so of course I want women everywhere, especially women of this new generation, to know the story. They need to realize that they have a voice and they need to tell somebody if someone has hurt them. And if Nicole's legacy can be protecting other women, then that would be a really positive thing.