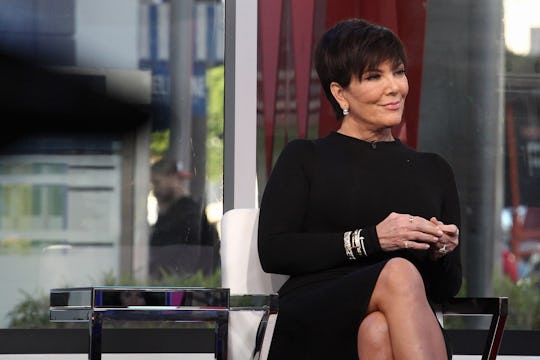 Tommaso Boddi/Getty
What Does Kris Jenner Think Of Selma Blair In 'The People v. O.J. Simpson: American Crime Story?' The Reality Star Is Invested In The FX Series
Since Keeping Up With The Kardashians premiered in 2007, we've watched the family matriarch, Kris Jenner, become famous for playing herself on TV screens. But audiences will see a different side of Jenner on Feb. 2, when The People vs. O.J. Simpson: American Crime Story premieres on FX. Because, for once, Jenner isn't playing herself — Cruel Intentions actress Selma Blair is. But considering how serious the subject matter of Ryan Murphy's 10-episode true crime series is, it's easy to wonder whether Jenner approves of Selma Blair playing her on American Crime Story.
After all, the series is a far cry from the glitz and glamour that America's Royal Family experiences in front of cameras. Focusing on the 1994 murder of Nicole Brown Simpson and subsequent trial against football star and actor O.J. Simpson, the series literally surrounds a life and death matter. One that Jenner was heavily involved in when it was unfolding in real life — not only was Jenner close friends with Nicole Brown Simpson (who helped Jenner through a miscarriage), but her ex-husband, Robert Kardashian, served as a defense lawyer for pal Simpson during his trial.
It's no secret that Nicole's death hit Jenner hard. (Jenner even named one of her daughters after the victim — Kendall Nicole.) Twenty years after her murder, Jenner spoke to press about her regrets surrounding the tragedy, that she didn't do more to help Nicole (who allegedly suffered abuse from Simpson, a point repeated in American Crime Story. Simpson's legal team has not responded to Romper's request for comment about the allegations).
As she told ABC News:
I will always feel guilty that I didn't pay more attention and didn't speak up when I thought anything was wrong or asked her more, 'Do you want to talk about it?'
And, later, to People:
I went to bed one night and I woke up the next morning and my entire universe had changed ... They were two of the best friends I ever had in my entire life. They were my family. O.J. was like my big brother. So I not only mourned the loss of Nicole, but I mourned the loss of O.J. and that relationship.
So it's fair to say that Jenner had a stake in ensuring Nicole's memory is respected in The People v. O.J. Simpson: American Crime Story. (Even if Nicole's family isn't quite supportive of the series.) Or, at the very least, her memory.
But it seems it will, much thanks to Jenner's involvement in the series. At an National Association of Television Program Executives conference in January, Jenner told press that not only did she speak to Schwimmer on the phone for "hours" in order to help him capture her ex-husband, but she also became close friends with Blair during filming.
Selma's great ... I hope she's done a really good job in bringing it home. She's such a talented actress.
And based on Khloé Kardashian's comments to Entertainment Weekly earlier this month, it indeed does seem Jenner and Blair created a friendship as the latter channeled the Kardashian matriarch.
My mom and Selma Blair became really good friends. She was at our Christmas Eve party. My mom had way more of an investment in that movie. She helped a little bit with character.
But has Jenner seen whether her work building relationships with Blair and Schwimmer has paid off? Not quite yet. As she said at the NATPE conference,
It was a very dramatic, sad, crazy time in my life and something that was tremendously difficult to go through. It will be kind of weird to watch it on TV as someone who lived that whole thing ... I want to see how it turns out. I heard it's really well done.
(At least, it seems Robert Kardashian would have approved of the film — Jenner also told reporters that her late ex-husband was a big fan of Schwimmer's work on Friends.)
And if The People v. OJ Simpson: American Crime Story doesn't turn out the way Jenner would have hoped? Well, the Kardashian family has seen much worse. As Khloé told Entertainment Weekly, "However they want to portray us is fine."