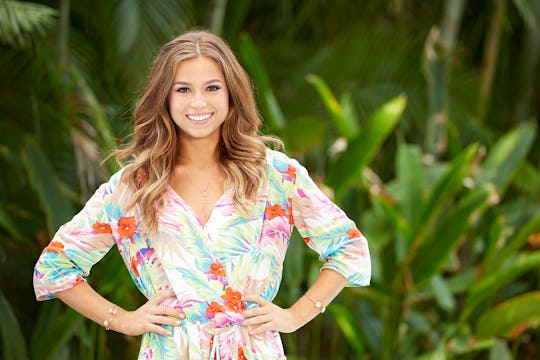 Bob D'Amico/ABC
Kristina & Danielle L. Probably Aren't BFFs On 'Paradise'
In Bachelor Nation, love triangles can be inevitable. Well, not love triangles per se, but... whatever 30 people vying for one person's heart is called. On Bachelor in Paradise, though, the situation is a bit different: it's a free for all, with cast-offs from past seasons all getting to know one another (in one way or another), so anything can happen. And, as expected, love triangles usually form. This season, one seems to arise with Dean, Kristina, and Danielle L. So what does Kristina think of Danielle L. on Bachelor in Paradise? They may want to date the same person: Dean.
How does this love triangle even come about, you may ask? Kristina and Dean hit it off right when Paradise started. They began talking about their unconventional families, so they bonded pretty quickly. Kristina was given the first date card of the season and she took along Dean, and they were a couple ever since. In fact, during the break in production for the alleged assault investigations, Dean went back to Kentucky with Kristina. However, according to Reality Steve, "all hell breaks loose" after shooting picked back up again. This is because Danielle L. — another contestant from Nick's season of The Bachelor — joins the cast and sets her sights on Dean, too.
Life & Style says that once Danielle joins the fold, she and Dean get pretty close; this is in line with several promos for the show, where Dean is shown emotional and struggling between two people. With all this said, how does Kristina feel about Danielle? They obviously knew each other pre-Dean and pre-Paradise; they may have been friends during their time on The Bachelor, but after all: they were fighting over the same person then, too.
Kristina hasn't said anything about Danielle so far on Twitter, though she has already made a jab at Dean for making a comment about dating other people during Paradise:
Then again, she also has tweeted gifs and photos of them together, so perhaps she wasn't too angry. There are so far no mentions of Danielle, though, and also no photos of her on Kristina's Instagram account. While that doesn't definitely say that Kristina can't stand her, it is worth noting that she posts many photos of her with her Bachelor fam — and Danielle is never included. Viewers will have to see how this love triangle plays out, but judging by Kristina's social media presence, it may not turn out so great.