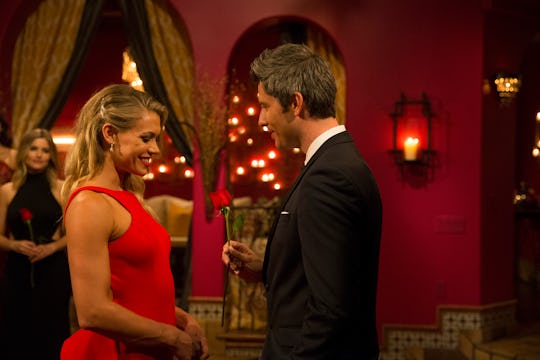 Paul Hebert/ABC
What Does Krystal Think About 'The Bachelor' Now? She Has No Time For Haters
It's a thankless job being the villain on The Bachelor but somebody's gotta do it. And this year that dubious honor went to California fitness coach Krystal. So now that she's been eliminated, what does Krystal think about The Bachelor? Well from the looks of what she's posted on Instagram, she's got no time for haters. She also appears really ready just to get back to her life of yoga, weight lifting, and sharing with the world her secrets to getting super fit.
Krystal began immediately rubbing the other women in the house the wrong way when she got a little greedy with her time with Arie, began badmouthing them, and saying obnoxious things like "girls are always jealous of me," and talking about how she has no female friends because women think she'll steal their boyfriends. Not the best way to make friends for sure. Already primed to dislike her, audiences were ready to see the end of her by the time the show got to the dreaded two-on-one date in Paris. She went on the date with Kendall, who in addition to having a huge taxidermy collection, appears to be the most poised, articulate, and empathetic woman in the whole bunch of poised, articulate, and empathetic women.
Because this is how the show goes, Krystal was pretty roundly vilified on social media and other places on the internet. On her Instagram, Krystal admits that the negative comments she received definitely got to her. But she also proclaims that she's not going to let any amount of bullying get to her. Because let's be real, I don't care what Krystal did on a reality show, she does not deserve to have scores of strangers on the internet spewing mean-spirited and cruel things at her. It's a television show, guys. There is no need to harass anybody on social media or elsewhere because they said something nasty once on TV.
In one post, Krystal explains how she'd never experienced negativity and cruelty on social media like this before. She admitted that at first she let the comments get to her. They affected her sleep and relationships with others. But now she says that she will not be a bully nor will she be a victim. Good for you, Krystal.
Krystal also posted a picture on her Instagram of herself with Bekah and Ashley, as well as a woman I assume is a producer on the show. The caption just has the hashtag #behindthescenes, and I'm guessing the photo was meant to imply that things weren't all bad on set. Maybe her experience was better than we've seen.
But Krystal's best response came after she was eliminated on the show, in the form of a very glamorous staircase shot. "NO ONE can steal my sparkle," she captioned the photo, with a unicorn emoji, naturally. You know what, I didn't like Krystal on the show, but I am down with this 100 percent.
Now that she's no longer a part of the show or one of Arie Luyendyk Jr.'s many girlfriends, it looks like Krystal is back to doing the things that make her happiest. She's back to posting inspirational fitness photos and videos and she looks positively glowing. So while she hasn't expressly stated what she thinks about the show or her experience on it, her attitude post-Bachelor looks nothing short of positive and forward moving. I guess we'll see how she really feels about the whole thing this summer when we'll find out whether or not she'll be joining the cast of Bachelor in Paradise. Fingers crossed.
Check out Romper's new video series, Romper's Doula Diaries:
Watch full episodes of Romper's Doula Diaries on Facebook Watch.