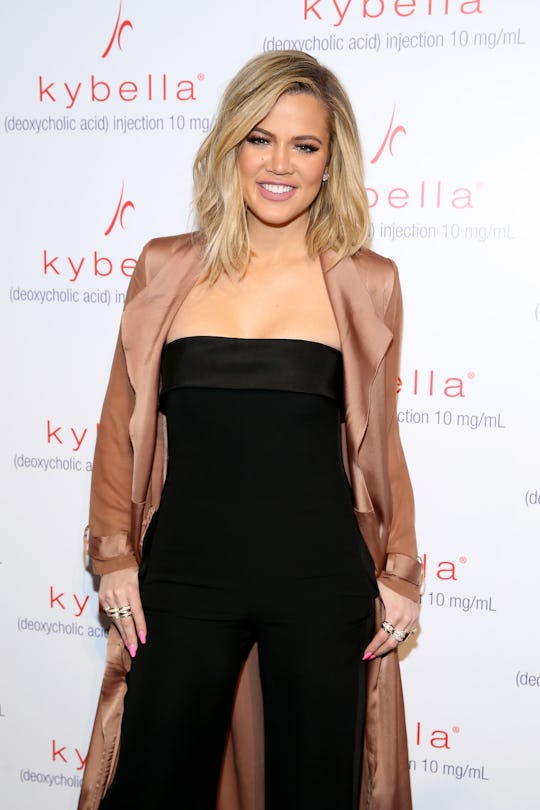 Cindy Ord/Getty Images Entertainment/Getty Images
Khloé Kardashian Paid Homage To Her Armenian Roots In This New Photo Of Baby True
Since Khloé Kardashian gave birth to her daughter four months ago, she has been graciously posting photos of her adorable daughter, True Thompson, on social media. With these posts, fans have been able to track how much her daughter has grown and see how the reality star continues to fall in love with her little girl every single day. Her newest Instagram post from Sunday is no exception. But the photo's simple caption might leave fans wondering what the word the Kyankus means.
This gets said again and again, but Kardashian's newest photo of True might just be her cutest photo yet. In the photo, shared on Kardashian's Instagram account, True can be seen sitting on a couch, against a pillow, wearing all white and staring deeply into the camera. Everything about True — from her super simple outfit, to her little pout, to the way her eyes seem to glitter in the light — is super adorable. And based on the photo's caption, it's clear that Khloé thinks the same way.
"Kyankus," Khloé captioned the photo, followed by an emoji of the Armenian flag. "My life."
Though people might be confused by the photo's caption, there's a very logical explanation for it. In fact, Khloé actually translated the Armenian word for her fans in the caption of the photo. Kyankys, or Kyank'y, literally translates to the word "life" in Armenian, according to Google Translate.
Kardashian's use of the Armenian word for life isn't a coincidence; it's an homage to her heritage. Kardashian's late father, Robert Kardashian, was Armenian, and his great-grandparents escaped the Armenian genocide, according to People. Therefore, Khloé and her siblings are half-Armenian and they're proud of their heritage, according to People. And Khloé using an Armenian word in her caption really shows how much she means that True is her life.
Khloé's fans (and siblings) rightfully couldn't get enough of the little girl (and the photo), taking to the comments section on Instagram to fawn over True.
"Cute baby!!!!" Kim Kardashian wrote. "I love her."
"Oh wow my little angel niece," Kourtney Kardashian added.
But fans didn't need to see this caption to know that True is Khloé's life. Based on everything that Khloé has said about her daughter and all of the pictures she has shared, it is plain to see that she does everything with True in mind. The mommy and daughter duo spend a lot of time together, which Khloé often documents on Snapchat. Even though she might get mommy-shamed from time to time (which she has ranted about on Twitter, according to People), Khloé has made it very apparent that being a mom is a new role that she is proud and happy to take on. Khloé told E! News on Friday that she is having so much fun dressing up True who is "so sweet" and "girlie." And all of the time she has been spending with her daughter has inspired her to have more kids eventually, according to E! News.
Although Khloé's life has officially been changed since giving birth in April, according to E! News, fans will be able to see all of the very exciting moments leading up to True's birth in the newest season of Keeping Up With The Kardashians, which airs on Sunday night.
On her Instagram Story on Sunday night, Khloé confirmed that she was pregnant during this entire season of KUWTK, according to People, and asked fans to not be too harsh about her appearance. "Most people don't have to film during an entire pregnancy," Khloé wrote on her Instagram Story. Adding that "pregnant women should be off limits" when it comes to trolls.
Khloé's life really has changed so much since this season's premiere of KUWTK, and fans will be able to watch her on every single step of this exciting journey as she prepares to become a mom and welcome her new little kyankus.