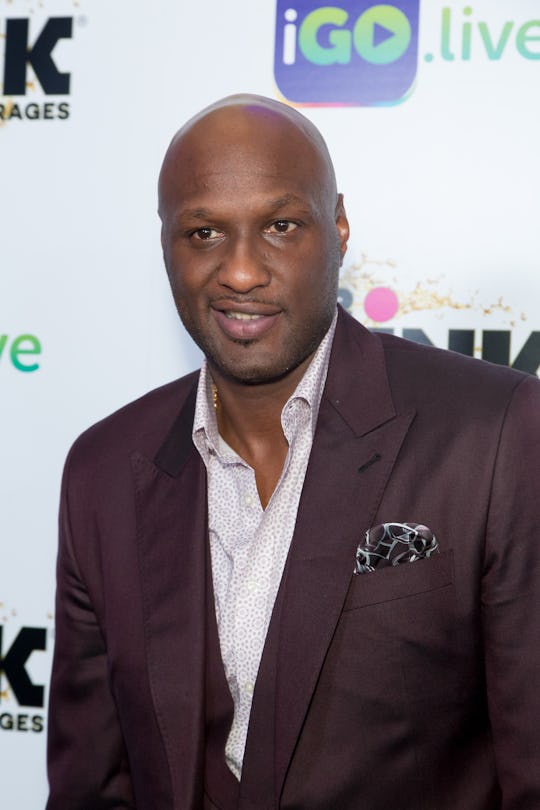 Greg Doherty/Getty Images Entertainment/Getty Images
People Really Wanna Know What Lamar Odom Thinks Of Khloé's Pregnancy
On Wednesday evening, Khloé Kardashian confirmed that she's pregnant with her first child with Tristan Thompson in a super sweet Instagram photo. Thompson's arms are wrapped around her, and she's wearing a Calvin Klein bra, which shows her baby bump. She's really soaking in all the congratulations, too, because she quickly followed up the announcement with the cutest tweet thanking people for their messages. And, yes, I believe this moment should be all about Kardashian, but a lot of people are wondering what Lamar Odom thinks of Khloé Kardashian's pregnancy, and for good reason.
Kardashian's post answered all of fans' questions: she announced the pregnancy (of course), she thanked her family members, and she talked about why she and Thompson waited as long as they did to announce. Obviously, she doesn't owe anyone an explanation, but fans were incredibly appreciative and happy for her in the comments of the Instagram post. Her sister Kylie Jenner liked the photo, and her mom Kris Jenner commented with happy emoji. Even Millie Bobbie Brown commented on the photo and shared her congrats. (And I officially have a new life goal: for Millie Bobbie Brown to tell me congratulations about something, anything, in my life.) Thompson also responded in his own simple, adorable way: by liking Kardashian's photo.
But the one person who hasn't responded yet that fans are not-so-patiently awaiting? Kardashian's ex-husband Lamar Odom. Kardashian and Odom got married after dating for one month in September 2009, Us Weekly reported. The two then announced their divorce in December 2013.
Fans aren't really interested in Odom's response just because he's Kardashian's ex. They're also interested because Kardashian famously "fake tried" to get pregnant during their relationship, she said in a Keeping Up With The Kardashians episode in June, according to E! News. She said of the situation:
When I was doing my fertility treatments, they were more so for Lamar. I had to stop because there was much deeper stuff that was happening in our marriage. I knew that it wasn't the right situation to bring a child into, and I think I've done a lot of covering up for him, like even when it made me look like I was the problem. But I was fine taking on that burden on my shoulders because he had a lot of other deeper s--t to deal with.
Still, despite that pretty shocking revelation, Odom said really kind things about Kardashian and her then-unconfirmed pregnancy in October. He told Complex, according to Us Weekly, "I wish her well. Still got love for her." He also said that "from a distance" they are cordial to each other.
But that contradicts a report from November, where a source alleges that the two never speak, in part because of the very difficult experiences they had while Odom was struggling with drug addiction. The source told Us Weekly:
Khloe and Lamar have no communication. She's aware that he's off the wagon and she has known it for a long time, so it's not a surprise to her. She wishes for the best for him.
I feel like "off the wagon" is a really strong and cruel phrase, and though Odom and Kardashian definitely didn't end their relationship well, I would like to believe that she wouldn't use language like that. Actually, in a January 2016 interview with Howard Stern (this was obviously after Kardashian knew about all of Odom's cheating, drug use, etc.), she said she knows that Odom loves her but that his struggles with drugs and sex addiction ended up overwhelming them. She also doesn't regret marrying him as early as she did. She said about the marriage, according to E! News:
I wouldn't change what I did because it was also some of the best time of my life. I wouldn't say it was a mistake. I needed that experience. The love I received was the love I needed at that time.
So, I think it's safe to say that when Odom does respond, he will have nothing but good things to say to Kardashian.
Check out Romper's new video series, Romper's Doula Diaries:
Watch full episodes of Romper's Doula Diaries on Facebook Watch.