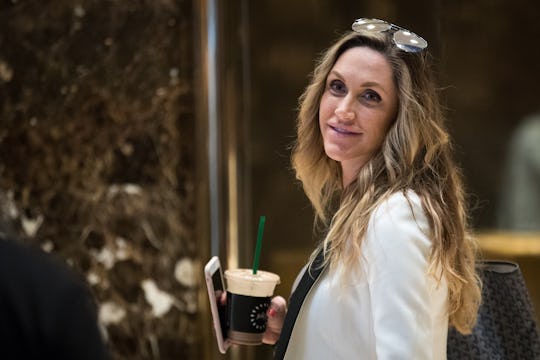 Drew Angerer/Getty Images News/Getty Images
Does Lara Trump Work For The Trump Administration?
President Donald Trump came under fire earlier this week for insensitive remarks he allegedly made to the military widow of a solider killed earlier this month. The White House disputes the family's accounts of the call, but a transcript may exist to set the record straight. At least, that's what daughter-in-law Lara Trump alluded to during a Fox & Friends segment. So what does Lara Trump do that allowed her to get her hands on this supposed transcript? She doesn't work for the White House, that's for sure.
Trump has a few titles under her belt. She worked as an personal trainer, chef, and most recently, as television producer for Inside Edition, according to Towm & Country. Trump, who is married to the president's second son, Eric, also hosts her father-in-law's "real news" program on Donald Trump's Facebook page, and is leading the president's re-election campaign (even though he hasn't made it through the first year of his presidency, yet). But she is not an employee of the Trump administration.
She does have a connection to the White House, though, beyond being the president's daughter-in-law: Her brother, Kyle Yunaska, landed a job at the Department of Energy, despite having no energy background, according to the New York Post.
Still, Lara Trump does not work for the White House. That simple fact has left many people confused as to how she would have access to an alleged transcript of the condolence call between the president and Myeshia Johnson, widow of slain solider Sgt. La David Johnson. Sgt. Johnson was one of four service members killed Oct. 4 in an ambush attack by ISIS fighters in Niger, according to CNN. (Romper reached out to Trump for comment, but has yet to hear back.)
The New York Times reported Wednesday that President Trump told Myeshia Johnson that her husband "knew what he signed up for," and referred to him as "your guy," according to the slain sergeant's mother and Democratic Rep. Frederica Wilson of Florida. Trump disputed their accounts, and accused Wilson of lying and politicizing "a sacred ritual," according to the New York Times.
But, during an interview, Fox News host Ainsley Earhardt asked Lara Trump for her thoughts on the controversy, prefacing her question with "You read the transcript," the New York Daily News reported. In response, the president's daughter-in-law said that, having "read exactly what he said," she believes his words were twisted.
She told Earhardt, according to the Daily News,
He said, 'Your husband went into battle, you know, knowing that he could be injured, knowing that he could be killed, and he still did it because he loved this country, and he did it for the American people.'
On Friday, White House Press Secretary Sarah Huckabee Sanders denied the existence of the transcript. According to Mediaite, Sanders claimed Lara Trump was responding to "reports and things that she had read," but the press secretary hadn't spoken to the president's daughter-in-law — who, again, does not work for the White House. Sanders had also said earlier this week that a recording of the condolence does not exist, but other people were in the room when it happened, Mediaite reported.
Sanders' response, though, doesn't explain how Lara Trump had such a specific response to Earhardt's question — particularly because news reports hadn't cited the kind of language Trump used in her answer.
Still, the controversy around the call is a mess, and someone — be it Lara Trump or the White House — is lying about the existence of the transcript. If the White House is lying, then the Trump administration has a lot of explaining to do as to why a non-White House employee would have access to a White House document not even released to the public.