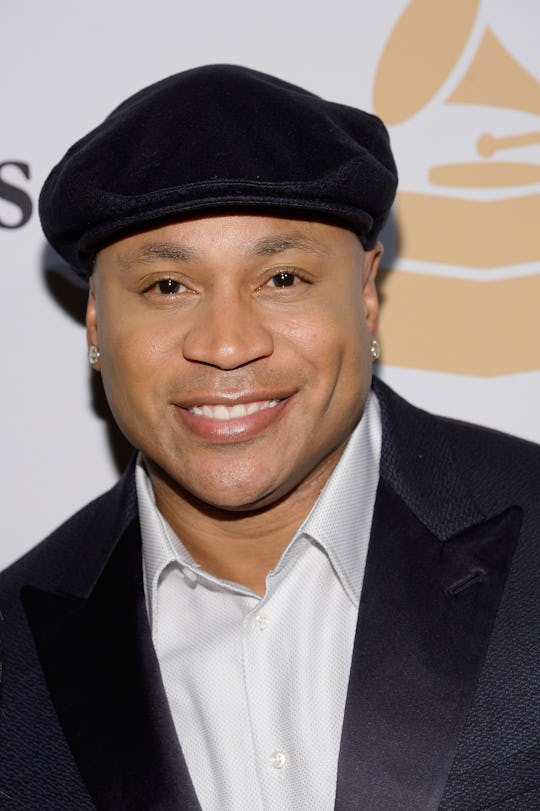 Kevork Djansezian/Getty
What Does LL Cool J Look Like Without A Hat? It's Actually Not A Mystery
The biggest night in music is almost upon us, and one person who's almost certainly looking forward to the Grammys Monday night? LL Cool J, who will be hosting the live event yet again this year. As far as hosts go, I like LL Cool J — he's fun and likable, and he seems to genuinely love music and the job in general. Something else he loves? Hats. Hats have been his signature since his career started back in the '80s, according to MTV, and that hasn't seemed to change much through the years. But what does LL Cool J look like without a hat? I know I can't be the only one who wonders why he's so insistent upon covering his head.
Actually, I know I'm not the only one: CBS News correspondent Michelle Miller asked LL Cool J that very question in an interview last year. Unfortunately, his answer wasn't super newsworthy — he doesn't have, say, a questionable head tattoo, or an oddly-shaped skull he's embarrassed to show off. Instead, the rapper insisted he just likes to keep his head warm, and that he finds hats more comfortable since he doesn't have any hair. In fact, he told Miller that he once took his hat off in public at the insistence of Bill Cosby, but he felt awkward and uncomfortable the entire time (poor guy!).
But, as fans of NCIS: Los Angeles already know, LL Cool J actually does spend a lot of time hat-less in public these days. The character he plays on the show, Sam Hanna, doesn't wear hats, which means there are plenty of opportunities to see LL Cool J in all of his bald-headed glory. And, truthfully, he easily pulls off both looks, even though it's still hard to imagine LL Cool J the rapper/host without some kind of headwear.
After LL Cool J puts his hat on and walks out on the Grammys stage, there will be some seriously cool performances to look forward to. According to E! News, Taylor Swift, who is up for seven Grammys this year, will open the show with a "top secret performance," and Lady Gaga will be front and center with a special tribute to the late David Bowie later on in the night. Adele will also perform, despite not being eligible for any Grammys this year, as her huge hit album, 25, didn't make the cutoff for nominations. And, of course, there's always Kanye West, who may or may not say or do something impromptu and unexpected — that is, if he even attends the show at all.
But no matter what goes down tonight, you have to hand it to LL Cool J — hosting a huge live awards show like the Grammys is a big deal. But lucky for him, he makes it look easy. Maybe his hats are his good luck charms?