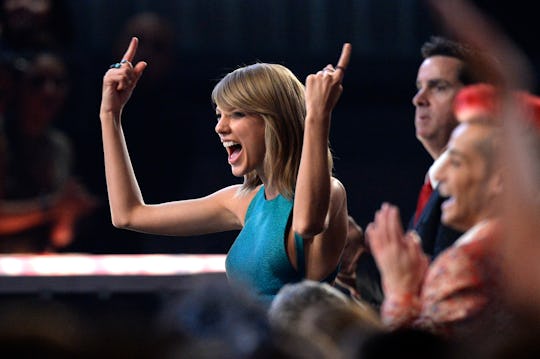 Kevork Djansezian/Getty Images Entertainment/Getty Images
The Meaning Behind Taylor Swift's New Single "Look What You Made Me Do"
Just before midnight on Thursday, Taylor Swift finally released the first single on her new album, Reputation. It's been a long three years since the pop star came out with some new material, so fans understandably can't stop talking about it. But more importantly, they need to know what "Look What You Made Me Do" means and what hidden significance is lying underneath the lyrics.
Since 1989 took over the world in 2014, the 27-year-old "Shake It Off" singer has been in the middle of some very publicized drama and heated media scrutiny. And as People reported, Swift's new album — set to debut on Nov. 10 — is basically "the brooding, dark track takes on her haters." But, the only taste of Reputation that fans have gotten so far is from this one single. So, what exactly does it mean?
As Rolling Stone dissected of the lyrics, "Look What You Made Me Do" could be an "apparent diss" at Kanye West. (Remember that infamous incident from the 2009 Video Music Awards? And when their longtime beef was ignited yet again after West's wife, Kim Kardashian, posted those phone calls between the two on Snapchat?)
If you're not up to speed, here's a quick history of what's gone down. Nearly a decade ago, West interrupted Swift's acceptance speech at the 2009 VMAs, took the mic out of Swift's hands, and said that Beyonce deserved the award for Best Female Video. Fast forward a number of years later, West reportedly apologized for the incident (and then took it back) and Swift penned a different poignant single in response.
Then, there was West's song, "Famous," which included a line that read, "I feel like me and Taylor might still have sex / Why? I made that bitch famous." Swift quickly said she was not on board with those lyrics, but months later, Kardashian leaked video and audio of an apparent phone conversation between the two, which seemed to confirm that Swift knew about the lyrics beforehand.
Here's what Brittany Spano for Rolling Stone wrote of the new single:
Taylor Swift is not ready to make nice on "Look What You Made Me Do"... Musically, "Look" is a continuation of the pop direction Swift definitively began on her 2014 LP but a much darker iteration of it.
In the song, Swift sings: "I don't like your little games/ Don't like your tilted stage/ The role you made me play/ Of the fool, no, I don't like you."
And, towards the end of the song, Swift sounds as if she's singing on the phone, symbolizing that recorded phone conversation with West. "The old Taylor can't come to the phone right now," she says in the single. "Why?/ 'Cause she's dead."
Of course, Swift's lyrics don't explicitly call out the 40-year-old rapper and the drama that's unfolded between them over the past few years. But there are a lot of signs within "Look What You Made Me Do" that make people think this could indeed be her long-awaited revenge.