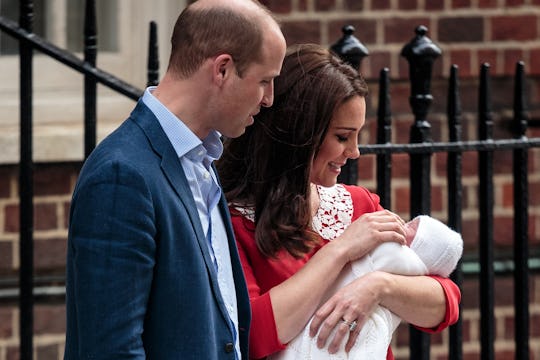 Jack Taylor/Getty Images Entertainment/Getty Images
Royal Baby No. 3 Has A Name Truly Fit For A Prince
There's a new prince in town! On Monday, April 23, Kensington Palace announced that Kate Middleton, the Duchess of Cambridge, gave birth a baby boy. Of course, people around the world are jumping for joy for the family and their new royal little one, who they've named Louis Arthur Charles. So what does Louis mean? The noble name has an interesting origin story.
Rumors that Middleton went into labor began in the early hours on Monday, April 23. And while everyone was on royal baby watch, Kensington Palace broke the news of the new prince's birth in a Twitter statement, which read, "Her Royal Highness The Duchess of Cambridge was safely delivered of a son at 1101hrs. The baby weighs 8lbs 7oz. The Duke of Cambridge was present for the birth. Her Royal Highness and her child are both doing well."
Middleton delivered her third child — and second son — in the Lindo Wing of St. Mary's Hospital in Paddington, a town in west London, at 11 a.m. local time, according to People. The palace added in a follow-up tweet, "The Queen, The Duke of Edinburgh, The Prince of Wales, The Duchess of Cornwall, Prince Harry and members of both families have been informed and are delighted with the news."
The royal family didn't immediately reveal the name of royal baby no. 3 until Friday morning. In an official announcement on Twitter, Kensington Palace announced that the Duke and Duchess of Cambridge named their baby boy Louis Arthur Charles.
According to People, Louis means "renowned warrior" in French. It's probably a tribute to Prince Philip, and also has a lot of meaning to the baby's grandfather, Prince Charles, whose uncle and mentor, Prince Louis Alexander of Battenberg, was murdered by the IRA in 1979, reports The Irish Times.
"Arthur," meanwhile, is also a family tradition, and not just going back to the Knights of the Round Table! Arthur is both dad William and grandfather Charles' middle name, and, according to People, Arthur was also the name of Queen Victoria's third son (and seventh child), who was said to be her favorite child. In Celtic, Arthur means "strong as a bear," reports SheKnows, while in English, it derives from the Roman clan name Artorius, meaning "noble, courageous." Kingly, indeed.
Finally, Charles of course has strong family tradition, being the name of the baby's grandfather, Prince Charles. It makes sense that the royal couple would choose a regal name with a lot of history behind it. Prince George, after all, is named after six kings and the last Viceroy of India, while Princess Charlotte is named after Prince William's grandmother and late mother, according to BBC News.
Joe Little, managing editor of Majesty magazine, told BBC News before the palace revealed Prince Louis's name:
Tradition plays a huge part in the British Royal Family, even in the 21st century. It will probably be something we have heard attributed to a prince... before. It's quite likely to follow the traditional route that William and Kate seem to favor.
Richard Fitzwilliams, a royal commentor, added, according to BBC News:
Family links are tremendously important in this. You want a name that resonates, a name that's got family links and is popular.
Tim Rooke/REX/Shutterstock
Tim Rooke/REX/Shutterstock
It's not unusual for the British royal family to keep the name of a royal child quiet for a few days after they were born. The Duke and Duchess of Cambridge didn't reveal the names of their two other children, 4-year-old Prince George Alexander Louis and 2-year-old Princess Charlotte Elizabeth Diana, until a couple of days after Middleton gave birth, respectively, according to CNN.
Still, even without a clue, bookmakers in the United Kingdom took bets on what Prince William and Middleton would name their third child. They correctly predicted Prince George's name back in 2013, but failed to guess Prince Charlotte's moniker in 2015, according to BBC News. The odds back then were in favor of Alice.
The favorites for Prince Louis, according to BBC News? Arthur, Albert, Philip, Frederick, and James. Sorry, bookies!
But no matter the name the Duke and Duchess of Cambridge would have chosen for their third child, there is no denying that Prince Louis Arthur Charles is one adorable kid. Congratulations to the royal family!
Check out Romper's new video series, Bearing The Motherload, where disagreeing parents from different sides of an issue sit down with a mediator and talk about how to support (and not judge) each other's parenting perspectives. New episodes air Mondays on Facebook.