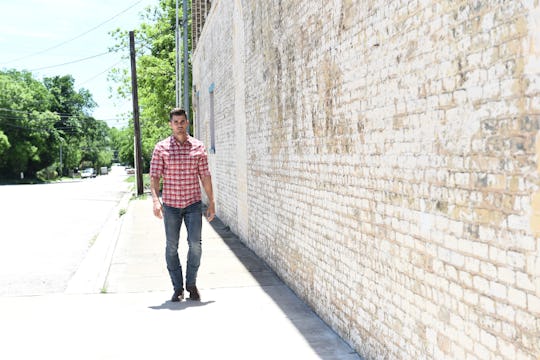 Felicia Graham/ABC
What Does Luke Think Of 'The Bachelorette'? He Might Get Sent Home
In some of the most stunningly obvious producer puppet master drama so far this season, Luke Pell was almost sent home Monday night on The Bachelorette. Despite bringing JoJo home for a lovely day with his big Texas family and setting up some weird candle flower heart thing to smooch her in front of, Luke hadn't told JoJo those three little words she so longed to hear. She announced in a confessional that she thought she was going to have to send Luke home, which was the first hint that he probably wasn't going anywhere. Then Luke interrupted the rose ceremony just in time to tell her that he did, in fact, love her. JoJo wept and wept in her two hundred and forty-fifth sparkly gown with a plunging neckline. The episode ended without a decision on JoJo's part, leaving fans wondering: what does Luke think of The Bachelorette? Has he commented on almost being sent packing?
Luke's social media is free from commentary, but that could be revealing on its own. The episode ended on a cliffhanger and any nudge from Luke could spill the beans to fans about his fate on the show. His silence could mean that he does get to stick around for the final three. But then again, it could mean the opposite. What better way to be misleading than to not say anything at all?
It would be very surprising if JoJo did choose to send Luke home. Out of all the remaining guys, she's always seemed the most visibly interested in him and Jordan. Her hometown date with Luke was, as Kaitlyn Bristowe pointed out, heavy on the Nicholas Sparks vibe down to the golden sunset in the background of his heartfelt speech to JoJo. Even though Luke waited until the last possible second to tell her he loved her, he was clearly all in anyway. He did tell JoJo he wanted a future with her, which set off another crying jag on her part, and that's not the kind of thing you say if the feelings aren't there. JoJo has described their connection as powerful more than once, and the combination of their physical and emotional bond does seem like the whole package. Luke seems like everything JoJo could want.
Still, the fact that JoJo was ready to send Luke home in the first place says a lot. Despite their connection, she still didn't feel like she was getting enough from him to keep him around. Now that he's told her exactly what she wanted to hear, it could save him – or it could be too little too late.
Luke obviously needs to work on his timing when it comes to speaking up. And right now, he isn't saying anything.