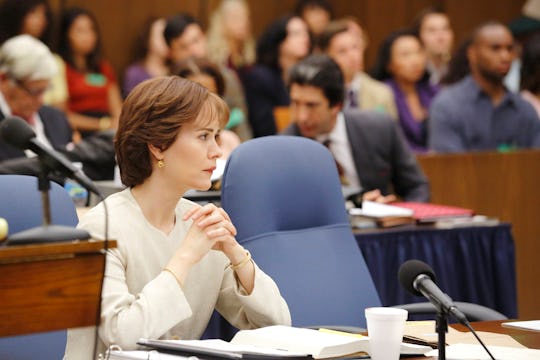 Ray Mickshaw/FX
What Does Marcia Clark Think Of Sarah Paulson's Portrayal On 'The People V. O.J. Simpson'? The Former Lawyer Commends Her TV Counterpart
This season, FX's American Crime Story depicts the infamous O.J. Simpson trial, both what we remember and what we may have forgotten. One crucial element to the case did not have anything to do with Simpson at all, but one prosecutor, Marcia Clark. During the trial, Clark faced harsh criticism and sexism. In the show, Clark is portrayed by Ryan Murphy favorite, Sarah Paulson. So, what does the real Marcia Clark think of Sarah Paulson's performance on The People v. O.J. Simpson: American Crime Story?
In an interview with Vulture, Paulson says that she was initially terrified to play Clark. She tells the publication that one reason was because Clark is an actual person — one that is still alive and can watch Paulson's performance, to boot. Another reason was that Clark was a polarizing figure during the case, so Paulson wasn't sure if she can pin her down to play her — and satisfy those people obsessed with the trial.
Paulson told Vulture of the fears, "I thought, 'Oof, if I don't do this right or well or if I f*ck this up there is going to be no place to hide.'" Clearly, Paulson faced her fears and took on the role.
Towards the end of filming, Clark and Paulson met. According to The New York Times, Paulson set up the meeting in an email, sharing that the meeting itself was an emotional experience for her. "It was so odd to do so much research, and then I was sitting with her and I could actually talk to her. We had dinner for four hours," she said of the encounter. She also supposedly had lots, and lots, of tequila.
But, what does the real Marcia Clark feel about Paulson's portrayal?
In an interview by Rebecca Traister for The Cut, Clark said that seeing Paulson play her was an out of body experience. She said, "[Paulson] delivered the feelings on the inside so beautifully, with so much nuance. You get the feeling of futility...in the courtroom, in the media, the constant uphill battle."
In a more recent interview with Vulture, specifically about the events that occurred in Episode 6 "Marcia, Marcia, Marcia," Clark gave an update on how she felt Paulson was treating the role. She called Paulson a "genius," and applauded her for her performance. When questioned whether Paulson captured her essence, Clark said she did not know how people perceived her, but she "loves what she's done."
It's clear that Clark admires Paulson's performance, and feels that it rings true for her own experiences. While not everything that American Crime Story portrays is factual — Clark denies complete authenticity, but remarked that the show gets "the big stuff" correct — it's good to hear that Clark feels properly represented on the show.