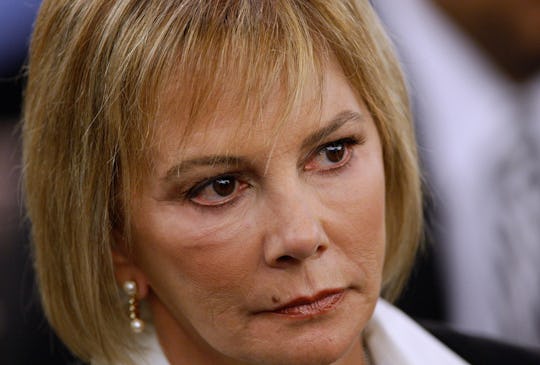 Justin Sullivan/Getty Images News
What Does Marcia Clark Think Of 'The People v. O.J. Simpson?' She's Not That Into It
It has been two weeks since the premiere of The People v. O.J. Simpson: American Crime Story and people can't stop talking about it. The show, which has brought on a serious wave of '90s nostalgia (do you remember where you were when the verdict was read?). This throwback to a serious and very public issue that played out in real time, on people's TV screens, has everyone wondering, what do the character's real life counterparts think of the show? Most importantly, what does Marcia Clark think of The People v. O.J. Simpson? She, surprisingly, isn't too happy about it.
Clark, who is played by actress Sarah Paulson, was working as an attorney for the Los Angeles district attorney's office when she became the lead prosecutor in O.J. Simpson's trial in 1995.
So what does Clark really think of the show? Turns out, for her, its like "reliving a nightmare." In an interview with The View, Clark, who lost the case, told the show hosts "every bit is awful and hard for me."
Clark has been very vocal since the premiere of the show, speaking about what the show got right and wrong about her life. Clark told Vulture that the producers of the show did not reach out to her during the filming process to consult or assist with the show. However, Clark has been very vocal with her praise of Ryan Murphy's miniseries on FX, calling the show "amazing."
One aspect of the show that Clark praised is Murphy's choice in casting Paulson for Clark's role.
"I've been a big fan of hers for years and I think she's a brilliant actress," Clark told Vulture. Clark continued on to say that the "silver lining" of the reliving the case is that Paulson gets to portray her.
Paulson and Clark did get to meet, however, and Clark immediately apologized for her hair during the time of the trials. In an interview with Entertainment Weekly, Paulson told the magazine that the two were able to meet for dinner and connect for the first time.
"The first time I met her, Marcia did say to me, 'I'm sorry about the hair. And the blazers — I'm so sorry about the blazers.' I actually like these blazers! I love a shoulder pad," Paulson told EW.
While trends and memories may be coming back from the '90s, lets leave the perms there too.
In an interview with Entertainment Weekly, Clark told the mag "Honest to god she manages to rock that hair which looking back is one thing. What was I thinking? I know what I was thinking. I know what I was thinking. I do. I had two little boys in diapers. I wanted wash-and-wear hair, and I didn't want to be bothered. A perm seemed like a great idea."