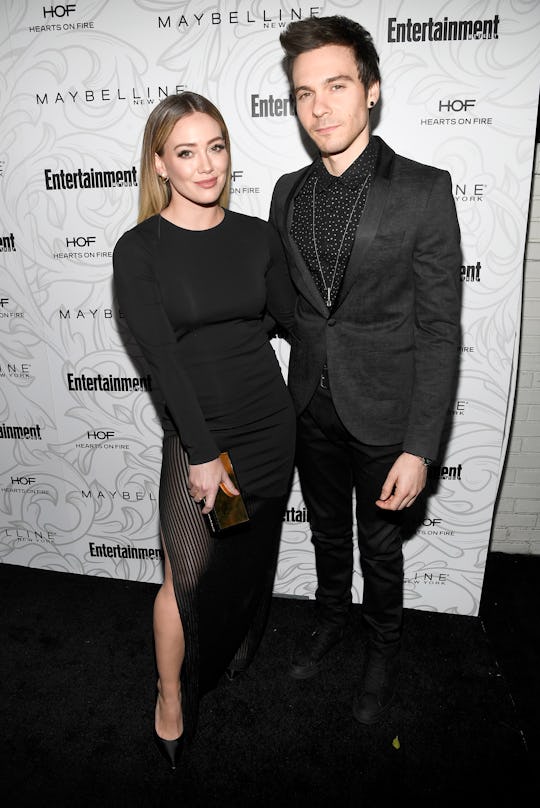 Frazer Harrison/Getty Images Entertainment/Getty Images
You've Definitely Heard Hilary Duff's Boyfriend & Soon-To-Be Dad Matthew Koma's Music Before
Watching a former child star grow up and find her IRL happily ever after is heartwarming enough, but it's even more amazing to find out that one of your OG faves (The Lizzie McGuire Movie was honestly life-changing) has partnered up with someone equally as awesome. As Hilary Duff prepares to welcome a baby girl with her boyfriend, some fans might be wondering: What does Matthew Koma do for a living? As it turns out, he's in the entertainment industry as well.
Koma is a singer, songwriter and producer, and has written hits for the likes of Shania Twain, Britney Spears, Kelly Clarkson, and Zedd, according to PopSugar. (You might recognize the latter from a little, under-the-radar song called "Clarity." Yep, that was Koma.) In fact, Harper's Bazaar reported that in 2015, he also worked on Duff's album "Breathe In, Breathe Out," before they started dating, but the couple had actually met (and dated) years prior to that. It's yet to be confirmed, but the timeline does seem to suggest that working together on new music was what put them back in contact. Harper's Bazaar also reported that the musician is originally from Seaford, New York, and was able to perform in his hometown when he opened for LMFAO in 2012.
In June of this year, Duff announced she's expecting a baby girl with Koma. The couple posted a super sweet photo together and captioned it: "Guess what guys! @matthewkoma and I made a little princess of our own and we couldn't be more excited!!!!!!"
For those who stan either of the celebs closely, you'll know that this is actually the third time that the couple has gotten back together. ("Third time's a charm!" as Duff put it, according to E! News.) On a December 2017 appearance on The Talk, Duff confirmed the relationship, saying: "I think that you have history and a past with someone, and love—just because it doesn't work out the first time, the second time, as long as there's not too much damage done, then it can always work out again."
Duff also told E! News that she resonated with fellow Disney star Selena Gomez's sentiments back when she left The Weeknd to reunite with on-again-off-again boyfriend Justin Bieber. "It's going so great," she said, according to E! News. "I mean, this is the third time that we've dated and I think that what Gomez says so much merit to it."
However, their relationship didn't necessarily end in the first place because the two had any bad blood. A source told E! News that it largely had to do with their schedules. "Since Matt got back from tour, they've been seeing each other again," the source told the news outlet. "Him being gone on tour was the main reason things didn't work out the first time around so now that he's back they picked up right where they left off."
This will be Duff's second child (she also has a son named Luca with ex-husband Mike Comrie). According to HuffPost, Duff opened up about how her family was handling the transition, explaining that her son was a little sad that it wouldn't just be "the two of them" anymore. Duff shared:
I said to him, "This is going to be a really good thing for our family. Mom has so much room in my heart for you and a sister and you're going to have so much fun watching her grow and teaching her things." I was like, "And I'm going to chase you around with her dirty diapers sometimes." And he was like, "Nooo!" If I keep it lighthearted, then he has fun with it and I do think he's excited. He's touching my belly now and saying 'goodbye' to her when he goes to school.
Needless to say, both Duff and Koma live fascinating lives and it will be so fun to watch them become parents to a baby girl soon.