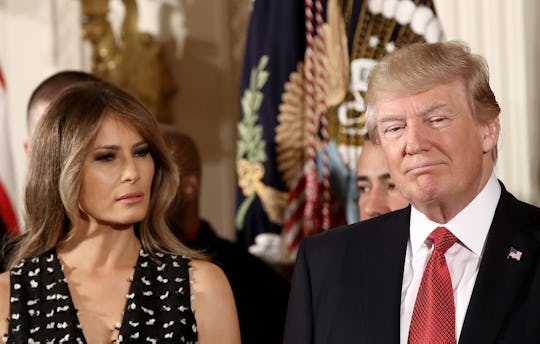 Win McNamee/Getty Images News/Getty Images
What Does The Trumps' White House Bedroom Look Like?
According to the Miami Herald, after almost five months of living separately, President Donald Trump's wife and the first lady, Melania Trump, announced Sunday that she and their young son, Barron, have moved into the White House. Every president and their family members have individual tastes, leaving some to wonder whether Melania and Barron's presence in the presidential mansion will bring about massive decorative changes to the residence. For example, what does Melania and Donald Trump's White House bedroom look like now that the first lady has moved in? And do the couple even share a room? Does the "first couple" even traditionally do so?
The Miami Herald reported that Melania broke with tradition by staying at Trump Tower in New York City in the months since the inauguration so that Barron, 11, could finish the school year without interruption. Meanwhile, Trump lived and worked at the White House. With Melania moving in, there have likely been at least some style changes to the residence, according to the New York Daily News.
The NY Daily News reported that the move was likely carried out by around 100 White House staff members, and that the staff makes sure to do everything from adding Melania and Barron's favorite foods to the kitchen to ensuring that the bathrooms are stocked with the first lady's favorite products. Talk about an all-inclusive moving service.
But what about the master bedroom? Has it been updated since Trump moved in, or changed since Melania is now living in the White House as well?
According to Business Insider, the second-floor master bedroom is just one of 132 rooms in the White House, and it's located in the president's private residence section of the building. And in fact, the room hasn't always been used as a bedroom.
In March, Us Weekly reported that sources claimed Melania and Donald allegedly didn't sleep in the same bed even before she moved into the White House. "They have separate bedrooms," the outlet reported, citing a "Trump insider." The magazine went on to report that the couple sleep in the same room, but have separate beds. Those aren't claims that can be entirely verified by anyone but Melania and Donald themselves, of course, and it's not really our business anyway. (Trump's representatives haven't respond to Romper's request for comment regarding the rumors.) But if they don't share a bedroom in the White House, no matter what the master bedroom may look like, it wouldn't be the first time for a president and his spouse.
Regardless of whether the two share a room, according to the New York Daily News, Melania's interior designer, Tham Kannalikham, is allowed to work with her to redecorate the entire private living quarters of the "first family." That includes more than a dozen rooms on two floors. They can change furniture, bedding, and decorations, or paint rooms. In the Business Insider video above, former President Bill Clinton and his wife, former presidential candidate and former Secretary of State Hillary Clinton, swapped out wallpaper they didn't like.
There's reportedly a $100,000 budget for renovations earmarked by Congress, and the Trumps can either use that or pay out of pocket like the Obamas did, according to the NY Daily News. In any case, the Trump's have a lot of options when it comes to deciding what their White House bedroom(s) can look like.
Time magazine was recently given an "after hours" tour of the White House, and described the private residence part of the building as "far larger than it looks from outside." The feature did not include photos of Trump's bedroom or photos of what it may look like now that Melania has moved in — or what a possible separate bedroom she may use might look like.
So it's not entirely clear yet what Melania and Donald Trump's White House bedroom looks like. Or, even if they'll share a room, or have separate bedrooms. Past presidents such as President Abraham Lincoln and his wife, Mary Todd Lincoln, had their own bedrooms, according to the White House museum.
If the first family wants to release photos of their White House bedroom(s), that's entirely their right. Such a rare peek into the private lives of a current presidential family is sure to be something that would get a lot of attention, if it does happen.